Volkswagen to Launch Fully Autonomous Car Fleet by 2021
The electric vehicles will be available through taxi-hailing company Gett and the Volkswagen Group-affiliated mobility service provider Moia
Volkswagen unveiled its plans for the Autonomic vehicle market in the 67th international motor show, held in Frankfurt, with a clear statement of its plans to launch a fleet of fully autonomous electric cars by 2021 through mobility service providers Gett and Moia.

In March, Volkswagen presented at the Geneva Motor Show a self-driving vehicle concept applicable to cars, vans and trucks, which the company intends to start testing in its headquarters soon.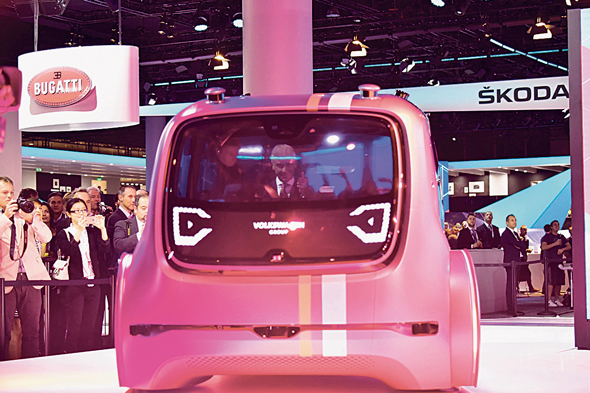 Volkswagen's self-driving vehicle, Frankfurt

Volkswagen's design chief, Michael Mauer, is cited in Automotive News as saying the concept was developed for a transitional age during which users might be alarmed by the idea of self-driving cars without a cockpit, steering wheels or pedals.

Johann Jungwirth, Volkswagen's head of digitization strategy, is cited in Automotive News as saying that the vehicles, to be launched first in 2-5 cities globally, will be available through the Volkswagen Group-affiliated Moia, which will receive the larger vehicles as an alternative to buses; a smaller, production version of the autonomous vehicle will be available through taxi-hailing company Gett.

In May 2016 Volkswagen invested $300 million in Israel-linked ride-hailing company Gett. With over $640 million in total equity funding and more than 1500 employees, New York-headquartered Gett operates mainly in Europe. It currently offers its services in around 60 cities worldwide.

Just two weeks ago another Germany-based auto manufacturer, Daimler AG, announced a new European venture with Israel-linked shuttle-sharing company Via Transportation inc. As part of the venture Daimler's van division Mercedes-Benz Vans invested $50 million in Via.