Joined by Partners, Didi Outlines Global Vision
With Ola, Careem, Taxify, and Brazil's 99 on its portfolio, China-based ridesharing company touts a dual-pronged global strategy
BEIJING--In a convention held in Beijing early September, CEO of Chinese ridesharing company Didi Chuxing Cheng Wei said the company aims to make young Chinese people give up their private cars altogether. Near him on the stage stood the CEOs of some of the world's most prominent rideshare companies: India's Ola, Careem from Dubai, Estonia-based Taxify, and Brazil's 99. Over the past two years, Didi Chuxing has invested in all. They appeared to agree with the claim that Didi Chuxing is the "world's leading ridesharing company," repeatedly heard throughout the day. Looking at the event's staging, it would appear the world is Uberless.

Competing ridesharing company Uber left china last year after merging its activity with that of local competitor Didi. Before its Chinese departure, Uber claimed that it was able to take up 35% of china's rideshare market, but it did so through massive ride-subsidization and by paying costly bonuses to its local drivers, which led to losses of more than $2 billion in two years. The merger, signed in August 2016, gave Uber an opportunity to gracefully leave the scene, after securing a 20% control in Didi Chuxing, who in return agreed to invest $1 billion in Uber.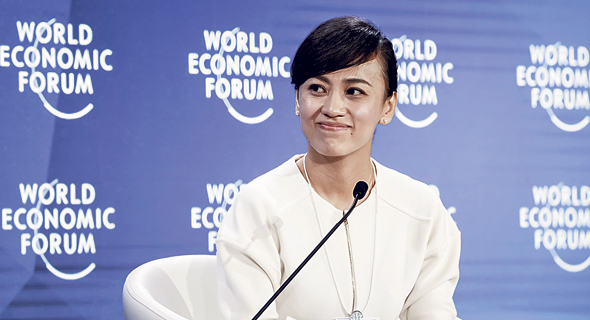 Didi Chuxing President Liu Qing
Didi operates in 400 cities in China and reports 20 million daily rides and 400 million users. Following its merger with Uber's Chinese operations, it dominates the Chinese rideshare industry, with 99% of China's mobile taxi hailing market and 90% of the entire Chinese private ride service. The company has a team of 17 million drivers in China.
Didi's triumph over Uber transformed the local Chinese company into a rising star in the ridesharing economy. It strengthened investors' faith in its potential, leading to a massive funding round of $5.5 billion. The round, completed in April, was led by Japan's Softbank. At the time of its merger with Uber, Didi was valued at $35 billion. Following its recent funding round, it is now valued at $50 billion.
Didi used the investment to expand globally and is now competing with Uber on more fronts. While Uber has based its global strategy on opening local branches, Didi's strategy revolves around investing in local companies.
The Chinese company first invested in Malaysia-based Grab, South-East Asia's leading rideshare app, in 2015. It later invested $100 million in Uber's domestic rival, Lyft.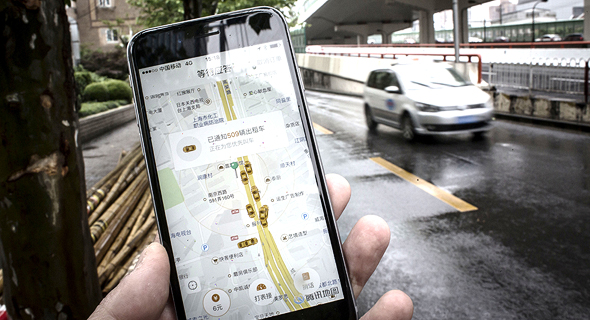 Ridesharing app Didi Chuxing
Didi officials have been very tight-lipped about their competition with Uber, saying that the growing market can support more than one global company. Others have been more vociferous on the matter. According to a September Financial Times Report, moments after Didi investment in his company was revealed in August, Taxify Founder and CEO Markus Villig said that "Didi is making sure that Uber will not dominate." With Didi's support, Taxify began operating in London. Later, the company was forced to suspend operations in the city due to licensing issues.
"There are those who think that you can take one good app and bring it as is to India or China, but each market has its sensibilities and attributes," Liang Sun, Senior Communications Director at Didi, said in an interview with Calcalist at the convention. "Some markets already have amazing local companies, so why not work with them? Grab is working to unify the various ethnic subgroups in South-East Asia. Ola already offers services in 11 languages in India. That said, some markets don't have local leaders in the ridesharing market, and we are exploring entering these countries directly. We have raised a lot of money, but we must invest it wisely."
While Uber is already operating pilot driverless cars in the U.S., Didi is concentrating its technology resources on developing smart-driving and transportation solutions meant to serve the company and its drivers in the near future. "We believe that automatization is the future and is about to change the global economy, but we do not think we need to do everything ourselves," said Ms. Sun. "We are working with all automakers and believe that we could provide great value by using our platform as an open platform for testing technological developments. Our cars travel billions of miles each week and could assist in training algorithms for autonomous cars."
Among the technologies originated in Didi Chuxing's research centers is an algorithm that tests the performance of the company's drivers, collecting data of negative driving habits such as sudden breaks and sharp turns. Repeat "offenders" are sent for additional training. Additionally, Didi's system forces drivers to get off the road after 10 hours. "Already today our cars are responsible for 40% fewer accidents than the world average for the cab industry," Said Ms. Sun.
The company also developed a system for conflict resolution between drivers and passengers. A system of algorithms resolves conflicts using objective indices such as travel route and passenger wait time, replacing human service representative.
Didi is also looking to the field of smart cities. Earlier this year, it launched a pilot in cooperation with the transportation authority in Jinan in eastern China to optimize traffic lights controls using Didi data. "There are smart traffic lights based on camera signal or underground sensors, but nothing is as accurate as the information coming from our cars," said Ms. Sun. In the pilot, car-generated data was used to build a smart map that forecasted traffic in the city in a range of 15-30 minutes. Traffic lights activity was rearranged based on this map, resulting in a reduced travel time by 10%-15% on one of the city's main roads. "Our system prevented traffic jams before they occur," Ms. Sun said. "It is science fiction."
In March, the company added a research and development center in Silicon Valley, to its existing center in Beijing."We provide our partners with technology meant to help them compete and gain customers," Ms. Sun said.