Smartphone-Controlled Paper Planes Company Scores Big on Kickstarter
Israeli-based PowerUp Toys develops add-ons that turn simple paper planes into Bluetooth-controlled drones with aerobatic capabilities
PowerUp Toys, a developer of smartphone-controlled motor and steering mechanisms for paper planes, is set to complete its third funding round on crowdfunding platform Kickstarter. The company introduced PowerUp DART, a smartphone-controlled aerobatic paper plane, which raised more than $1.4 million for an initial goal of $25,000, with over 20,000 orders and three days to go.
PowerUp's latest model, which the company's Kickstarter campaign promises to deliver by Christmas, is includes a propeller, a steering apparatus with wing-stabilizers, and landing gear. It converts a simple paper plane into a Bluetooth-controlled drone capable of performing complex aerobatic maneuvers such as loops and barrel rolls and fly at a speed of up to 25 mph.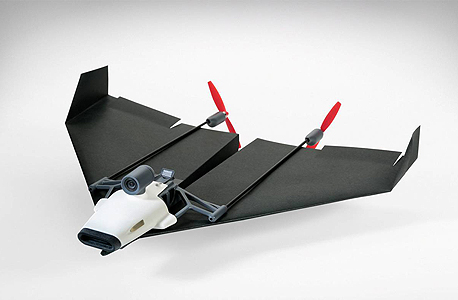 PowerUp
Founded in 2011 by Shai Goitein, a former Israeli Air Force pilot, PowerUp has successfully launched two previous models of paper plane add-ons on Kickstarter. The PowerUp FPV, introduced in June 2016, was outfitted with a live streaming video camera powered by Paris-based wireless technology company Parrot S.A. The campaign raised nearly half a million dollars. PowerUp's first paper plane add-on, introduced in 2014, raised over $1.2 million in a Kickstarter campaign.
According to the company, its products' aerobatic capabilities were designed with the help of former engineers at Israeli defense technology company Rafael Advanced Defense Systems Ltd.
"The paper plane is a powerful icon, and it attracts a variety of consumers. Those who assume it is a toy for kids would be surprised to learn that most of our users are in their thirties," PowerUp founder Shai Goitein said in an interview with Calcalist Sunday.
"The idea was to connect something physical and nostalgic with smartphone technology and create an intergenerational experience," Mr. Goitein added.