Satellite Operator Signs Launch Contracts with SpaceX a Year After Explosion
Israeli satellite operator Spacecom lost a deal for its acquisition after its previous satellite was destroyed in a SpaceX rocket explosion last September
Space Communication Ltd., the Israel-based satellite operator also known as "Spacecom," signed contracts with Elon Musk's SpaceX to launch two satellites, the company announced Wednesday. Based on the contracts, Spacecom will launch the AMOS-17 satellite in the second quarter of 2019, and AMOS-8 in 2020.

In 2016, Spacecom was set to operate Facebook's web access initiative in Africa with its AMOS-6 communication satellite. In September 2016 the satellite was destroyed during launch when a SpaceX Falcon 9 rocket exploded on its launch pad in Florida during pre-checks.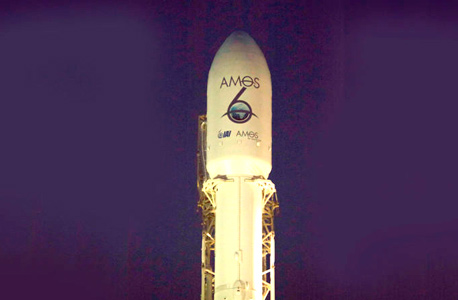 Spacecom's AMOS-6 satellite prior to failed launch
SpaceX resumed launches in January 2017, at the end of a four months hiatus following the explosion. The company has agreed to launch AMOS-17 at no added cost. Spacecom will pay up to $62 million for the launch of AMOS-8.
Founded in 1993 in order to market AMOS-1, the first Israeli made satellite, Spacecom is a spin-off of Israel Aerospace Industries Ltd., the manufacturer of the AMOS satellites. Spacecom finances the construction and launch of its commercial satellites, contracting third party suppliers. In 2005 Spacecom was listed on the Tel-Aviv Stock Exchange. AMOS-6 was to be its sixth commercial satellite.
Spacecom received $218 million compensation for the destruction of AMOS-6, but the company's resulting financial losses were greater. It lost a five-year contract with Facebook which was worth $95 million and was forced to lease another satellite at the cost of $22 million a year.
A week before the explosion, Spacecom's board approved a $285 million acquisition offer by Shanghai-listed telecommunication technologies supplier Beijing Xinwei Technology Group Ltd. A successful launch was a pre-condition for the deal. This August, Beijing Xinwei announced its board of directors decided to scrap Spacecom acquisition.