Kite Pharma's Cancer Drug Gets Regulatory Nod
The cancer-treatment company, bought by Gilead Science in August for $11.9 billion, will sell one treatment course of the drug for $373,000
The U.S. Food and Drug Administration approved Kite Pharma's drug Thursday. Gilead Sciences Inc. announced its acquisition of Kite Pharma at the end of August for $11.9 billion.

"Today marks another milestone in the development of a whole new scientific paradigm for the treatment of serious diseases," said FDA Commissioner Scott Gottlieb. "In just several decades, gene therapy has gone from being a promising concept to a practical solution to deadly and largely untreatable forms of cancer."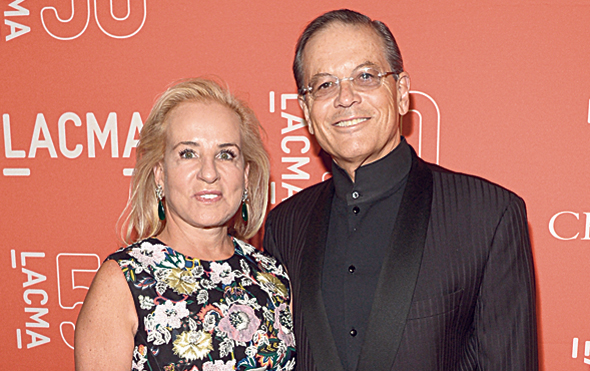 Kite Pharma CEO Arie Belldegrun and wife Rebecka

Kite Pharma's drug, approved for the treatment for certain types of a blood cancer called non-Hodgkin lymphoma (NHL), uses a technology called chimeric antigen receptor T-cell therapy, or CAR-T. T-cells are a type of white blood cells that help fight infection, and with this technology they are taken out of a specific patient, engineered to fight cancer, and returned to the same patient, enabling a very precise and personalized form of treatment.

Kite Pharma's drug Yescarta will sell at $373,000 for each treatment, lower than the $475,000 a treatment price Novartis International AG set for its own CAR-T child leukemia drug Kymriah. The latter was approved by the FDA in August, just two days after Gilead's announcement of Kite Pharma's acquisition. Novartis promised to reimburse patients who don't show improvement after one month, and its drug was shown to have a higher success than Kite Pharma's drug in clinical trials.

Kymriah achieved an overall remission rate of 83% within three months of treatment; Yescarta showed a complete remission rate of 51%. Yescarta was approved for adults patients, but only after at least two other kinds of treatment failed, and it comes with a risk warning.

Yescarta can cause two potentially fatal conditions, neurologic toxicities and cytokine release syndrome (CRS), a conditioned characterized by high fever and flu-like symptoms caused by a negative response to the activation and abundance of CAR-T cells. As such, the FDA requires hospitals and clinics that use the drug to be specially certified and trained to identify those complications. Kymriah carries the same warning.

If Yescarta lives up to its promise, this will be Gilead's second successful bet. In 2011 Gilead paid around $11 billion for Pharmasset Inc., a company in the latest stage of clinical trials for a hepatitis C drug. That drug returned Gilead's investment in less than a year, and gave Gilead the almost $36 billion cash cushion it used to buy Kite Pharma.

Kite Pharma's drug is based on a patent by Israeli immunologist Zelig Eshhar, a pioneer in CAR-T cell research who is also on the company's scientific board. Mr. Eshhar is currently being sued in Israel by his former PhD student, immunologist Gideon Gross, who first discovered the CAR-T technology in the 1980s as part of his PhD research under Mr. Eshhar. According to the lawsuit, He is suing based on a previous agreement between the two scientists for a part of the options and payments Mr. Eshhar received for Kite Pharma's sale.