SEAT to Establish Technology Scouting Operation in Israel
The company is searching for new startups and technologies to incorporate into its production lines
Volkswagen Group's Barcelona-based subsidiary automaker SEAT S.A. is establishing a technology scouting operation in Israel, SEAT's executive chairman Luca de Meo announced yesterday in the a smart mobility summit held in Tel Aviv.

Called XPLORA and established jointly with Champion Motors Ltd., SEAT's Israeli importer, the initiative will locate new startups and technologies for SEAT's production lines.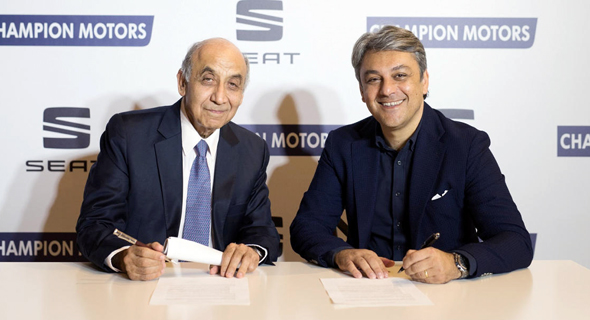 Left to right: Champion Motors Chairman Itzhak Swary and SEAT executive chairman Luca de Meo

SEAT has already integrated into its products mobility services like Intel's social navigation app Waze and Amazon's voice-enabled personal assistant Alexa, said Mr. de Meo at the summit, adding that the company is currently also negotiating with cab-hailing company Gett Inc.

Initially, SEAT's Israeli outpost will employ four experts that will search for local startups.

Automakers are seemingly flocking to Israel recently. Two other auto manufacturers announced their entry into the local industry during the summit.

Hyundai Motor Company announced the establishment of an innovation outpost. The company will initially focus on investment and strategic collaboration with local startups, mainly through its investment in and partnership with Israel-based venture capital firm Pitango Venture Capital.

Delphi Automotive LLP also announced the opening of a local outpost. While the company didn't have offices in Israel until now, the company has been active with regards to Israel-based companies in the past months. Delphi participated in a $60 million investment round in chip communication company Valens announced in April, and led a $25 million round for car data company Otonomo Technologies Ltd., announced the same month. The company was also part of a $65 investment round in low-cost LiDAR startup Innoviz Technologies completed earlier this month, following a partnership announcement with the startup in August.

In August, Czech automaker Skoda Auto announced plans to establish a technology scouting outpost in Tel Aviv as well, also in partnership with Israeli importer Champion Motors. Several similar ventures already exist in Israel, operated by automotive retailers like Honda-importer the Mayer Group and Toyota Israel—Union Motors.