Warburg Pincus Buys Stake in Email Protection Company Cyren
The private equity acquired a 21.3% stake in Nasdaq-listed Cyren for $19.6 million and plans to increase ownership by buying up to 75% of the company's shares
New York-based private equity firm Warburg Pincus, LLC has bought a 21.3% stake in Israel-linked, Nasdaq-listed internet security company Cyren Ltd. for $19.6 million, the companies announced Tuesday. Warburg Pincus paid a premium of 12% on Cyren's stock price on market close Monday, paying $1.85 a share. The companies further announced the private equity intends to increase its ownership in Cyren, by buying shares for up to $2.5 a share, and up to an ownership of 75% of Cyren.
The Manhattan-headquartered private equity founded in 1966 has over $44 billion in assets under management. In 2015 it participated in a $100 million investment in cybersecurity firm CrowdStrike Inc. In 2016, it participated in a $25 million investment in Israeli founded, Delaware-registered mobile security company Zimperium Inc.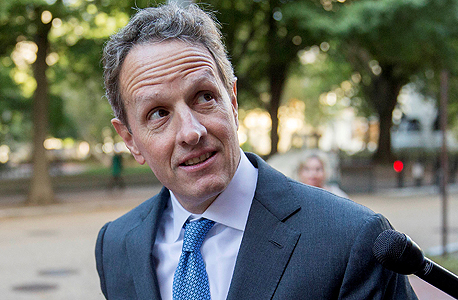 Warburg Pincus president Timothy Geithner

Founded as Commtouch Software Ltd. in Israel in 1991, Cyren started out as a provider of email services. After going public on Nasdaq in 1999, the company pivoted to developing and selling anti-spam solutions. In 2010 and 2012 the company made two acquisitions, adding anti-phishing technologies, and email protection service to its offering. In 2014 it rebranded as Cyren. In 2016, the company reported $40 million in sales and a $6.8 million net loss. The company lists Google and Microsoft as customers. Cyren is headquartered in McLean, Virginia and has offices in Europe and Israel.

"The cloud-based security market is large and growing, and enterprise customers are looking for companies that can provide them with a full portfolio of solutions," said Cary Davis, managing director at Warburg Pincus as part of the companies' joint announcement.