Ehud Barak Linked Weinstein with Israeli Spies-for-Hire, Report Says
With its repertoire of cloak-and-dagger tactics, Black Cube has left fingerprints in a number of scandals in recent years
Former Israeli Prime Minister Ehud Barak helped producer Harvey Weinstein get in contact with Black Cube, a private intelligence firm founded by veterans of the Israeli intelligence services, according to a news report broadcast by Israel's Channel 12 and Channel 13 on Tuesday.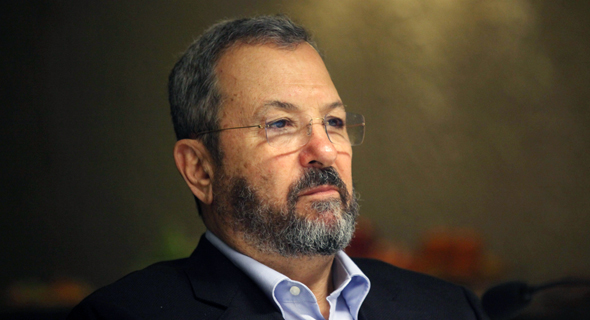 Former Prime Minister Ehud Barak (Credit: Amit Sha'al)

Following the report detailing Mr. Barak's role in connecting Weinstein to the Israeli firm, Mr. Barak released a statement confirming he had passed on contact information, but he said was unaware of Weinstein's reason for asking, according to a report in Israeli newspaper Yedioth Ahronoth published Wednesday.

"Over a year ago, Barak was asked by Weinstein if he knew of an Israeli security company that could help him with business matters," according to the statement. "Barak confirmed that the company he had heard about is probably Black Cube and that it indeed operates out of Israel."

"Barak is not familiar with the company nor with its executives, but he passed on contact information. Barak was not aware that the company was hired by Weinstein nor was he knowledgeable of the purposes for which it was hired."

The Israeli broadcasters also reported that Black Cube co-founder Dan Zorella, Barak, and Weinstein had all been invited to attend a fundraising event for Hillary Clinton's presidential campaign in the fall.

Black Cube has not yet responded to requests for comment.

The New Yorker story offers a detailed account of Black Cube's efforts on behalf of Weinstein over the past year. Citing internal company documents and interviews with multiple sources, the magazine reported that Black Cube was tasked with conducting an investigation to "stop the publication of the abuse allegations against Weinstein."

Black Cube and other firms hired by Weinstein reportedly gathered personal information on dozens of people in an attempt to illuminate their psychological profile and sexual history. A Black Cube employee, posing as a women's rights advocate, befriended American actress Rose McGowan, who says Weinstein raped her, secretly recording conversations and trying to extract information from her.

Founded in 2011 by Zorella and Avi Yanus, Black Cube is headquartered in a largely residential part of central Tel Aviv and maintains offices in Paris and London. The name Black Cube is a trademark owned by B.C Strategy Ltd., a company incorporated in Israel.

Its 100-plus workforce is made up of Israelis who served in military intelligence units and agencies such as the Mossad and the Shin Bet Security service, Israel's equivalent of the FBI. The company claims to have native speakers of 30 languages among its staff and the ability to operate in every region of the world. The New Yorker story offers the latest look at the firm's cloak-and-dagger tactics for collecting information through human sources.

Last year, Black Cube became implicated in an international diplomatic row when two of its employees, reportedly ex-Mossad, were arrested in Bucharest on suspicion of harassing and hacking into the computer of Laura Codruta Kovesi, chief prosecutor of Romania's National Anticorruption Directorate. In the ensuing investigation, Mr. Zorella was deposed, and portions of the deposition were published by the Romanian press. Officials in the Romanian government hired Black Cube to ferret out suspicions the anti-corruption authority was marred by corruption, according to leaked portions of the deposition.

Black Cube is not only a spy-for-hire service.

The company's other strong suit, according to claims it makes on its website and to sporadic news clips from the past several years, is mining and analyzing large volumes of public records and other data from the internet. The company web-crawls hard-to-find online databases belonging to government institutions in many jurisdictions.

The information gleaned this way helps Black Cube disentangle complex financial webs, revealing, for example, the true ownership of assets or the structure of offshore trusts.

In 2014, Israeli daily Yedioth Ahronoth, which is part of the same media group as CTech, reported that Israeli businessman Nochi Dankner hired Black Cube to investigate a rival, Moti Ben-Moshe, in the struggle to control Israeli holding company IDB Group. Black Cube was able to cut through Ben-Moshe's obscured business dealings, discovering that he had made his initial fortune with an erotic phone service.