Israel Has Few Women Tech Entrepreneurs and Even Fewer Get Funded
Extent of gender imbalance revealed in new data
An analysis of data about Israel's startups and their founders reveals the extent of the gender imbalance in the ranks of tech entrepreneurs, especially among funded startups. The data was supplied to Calcalist by Start-Up Nation Central (SNC), a Tel Aviv-based non-profit organization that manages a database of Israeli tech companies.

Since 2014, 80 Israeli startup founders have reached the rarefied air of ventures that have gone public, gotten acquired, or raised Series B or C funding. None of them are women.

The data also reveals which types of startups are more likely to be founded by women. There are relatively high number of women among founders of startups focused on health and education. But in the "Security and Safety Technologies" category, women make up only 15 of 445 founders, or 3.37%.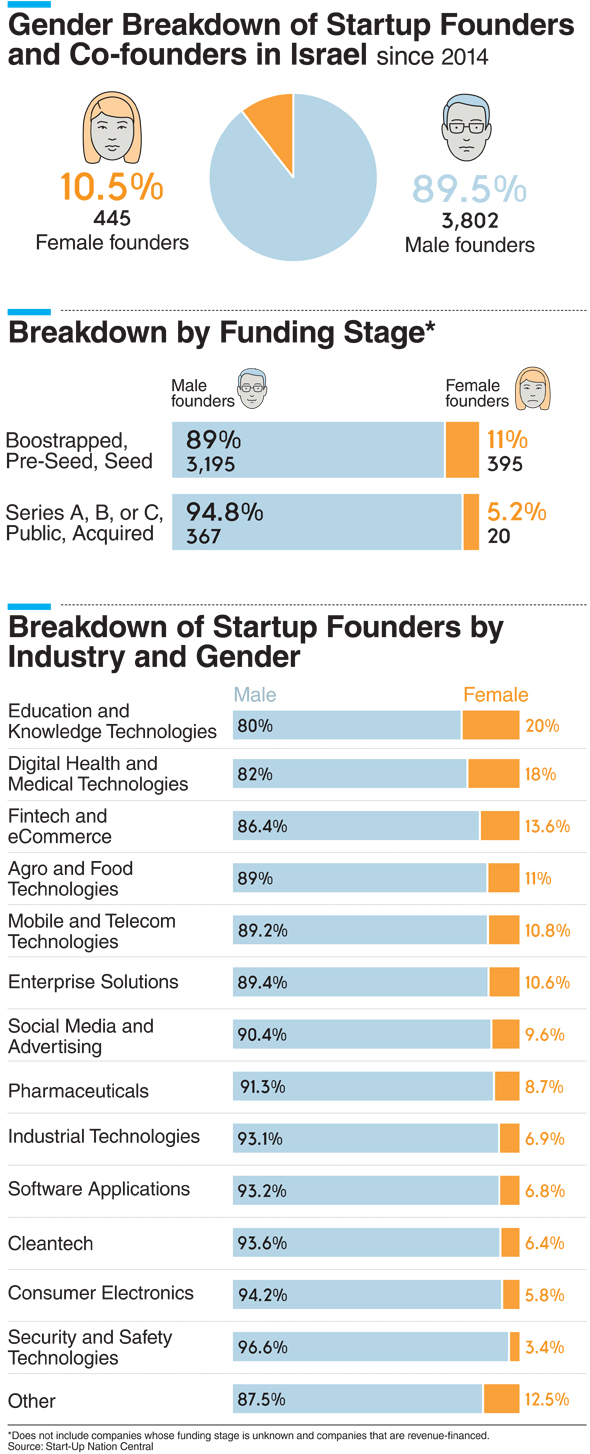 Infographic

"Women have a harder time raising money," said Daniela Kandel, who has held various roles at Start-Up Nation Central over the past several years and now acts as a liaison for international partnerships.

Ms. Kandel points to female representation in the venture capital industry as one explanation.

"The venture capital industry is male-dominated and studies show that investors tend to invest in people who are similar to them," she said. "If we were to see more women in finance, we would also see more women entrepreneurs raise money."

But Ms. Kandel also cautioned against too much pessimism. She said that in recent years, more women are founding startups in Israel, which help explains why so many are still in early funding stages.

She said that groups like She Codes, an Israel-based community of women software developers, are making a difference by providing women tech workers with important networking opportunities. Still, she said, change must also come from the top.

"Directors and CEOs have a responsibility to create more diverse management," Ms. Kandel said.

Start-Up Nation Central aggregates data on israeli startups, entrepreneurs, investors, and innovations hubs, acting as network that connects international entities with Israel's tech industry.