Portraying Women Correctly in Ads is Good for Business, Says GoDaddy CEO
Sexist marketing campaigns are now a thing of the past at the web hosting company, CEO says in interview
U.S.-based Internet domain registry and hosting company GoDaddy Inc. built its business up with a controversial marketing campaigns that featured an array of scantily dressed women. One such ad, which ran during the 2013 Superbowl, featured Israeli model Bar Refaeli in a sloppy make out session with a stout, bespectacled "nerd."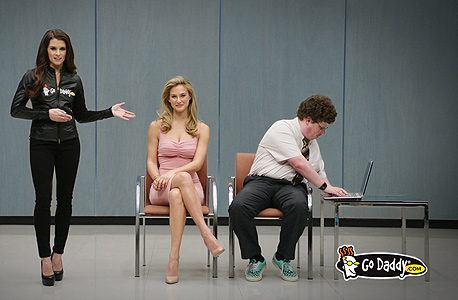 GoDaddy's ad for Superbowl 2013

If you were to search for this ad on the GoDaddy website today, you would come up empty handed. This commercial, and others like it, were expunged shortly after Blake Irving, GoDaddy's current CEO, joined the company in 2013.

I was already about to take a job at another company when a recruiter asked me 'what do you know about GoDaddy?' Mr. Irving told Calcalist in an interview last month. He answered that he knew the company, and thought its commercials offensive and its product "not that good."

Mr. Irving's mind changed following a deeper look into the company's stats. GoDaddy had $1 billion in revenues and was valued at $2 billion. Moreover, it enjoyed an 80% brand recognition in the U.S. and 85% customer retention. "I looked at these numbers and thought, holy crap - their product isn't that great and they were able to do all that with unbelievable marketing," Mr. Irving said.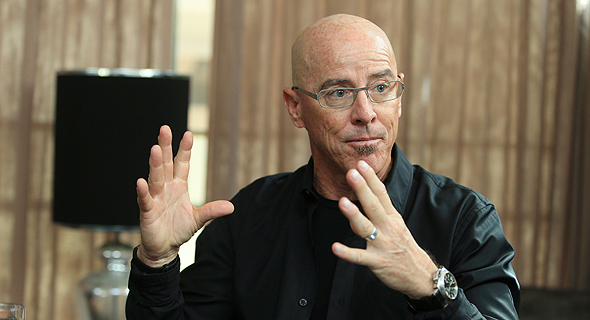 GoDaddy CEO Blake Irving

Mr. Irving took the job with the intention of making GoDaddy a global company and growing its product offering. He also intended to change the company's marketing scheme, "so that people know what we do and who we do it for and who we are as a company," Mr. Irving said.

Globally, 58% of small businesses—which make the bulk of GoDaddy users—are owned by women, Mr. Irving said. So if we support women, and represent them appropriately in commercials, it will work to our benefit, he added.

In 2013, GoDaddy made the list of 13 best companies for women in tech, a yearly list compiled by the Palo Alto, California-based AnitaB.org, a nonprofit organization for the advancement of women in technology.

"You have to pick a cause that resonates with your customer base and your company and is doing something good. And then you have to be a beacon for the cause. In my case what matters the most to me is changing the game for women in technology," Mr. Irving said. "Less than 20% of engineers today are women. There is no equal pay. The World Economic Forum says that on a global scale we are 170 years away from equality," he added.

Mr. Irving said that he has been working to propagate equal pay for women working at GoDaddy.

Mr. Irving said that it was his younger sister, who passed away at age 37, that inspires him to promote women in technology. "My pledge to her was that I would do anything in my power in my business to forward women," he said.