Q&A
Governor Gary Herbert Touts Utah's Robust Economy
Republican Governor Gary Herbert talks trade, states' rights, and political polarization with Calcalist
Last month, Utah's Republican governor, Gary Herbert, visited Israel, and Calcalist caught up with him for an interview.
For daily updates, subscribe to our newsletter by clicking here.
Assuming office in 2009, Mr. Herbert has been presiding over a period of strong growth for his state. At 3.4%, Utah has the tenth lowest unemployment rate among all states, beating the national average of 4.2%. Salt Lake City has been nicknamed "Silicon Slopes" because of the concentration of tech companies in the area.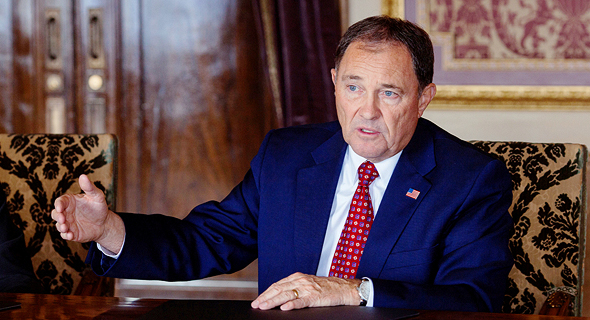 Utah Governor Gary Herbert

Mr. Herbert was one of the most outspoken Republican critics of Donald Trump before the election, but now he is trying to work together with the Trump administration. His goal is to preserve the success of "Utah Model," which he says includes low taxes and reduced regulations for corporations.

Q: Do you think that Washington's skeptical attitude about international trade will have an impact on Utah's economic accomplishments?

A: There seems to be at least coming from Washington, D.C. a little less enthusiasm for international trade. The states are independent; whatever they do in Washington does have impact on the states but not entirely. We are very much free traders in Utah; we understand the global environment is what it is today. The nature of economy is global, and we also recognize that 95% of all the customers for whatever we are selling from Utah are outside of America's borders. So we would be foolish I think if we did not take our goods and services to the world.

Q: How will tax reform affect the states?

A: We want to empower the private sector which is really the wealth creators, the ones that creates jobs. So we think it is very valuable to have a tax policy that encourages the innovation that comes from the private sector. Clearly, we need to reduce our corporate tax rates in the U.S because we have the highest in the civilized world; it causes the private sector to leave the borders of America. The intent ought to be to broaden the base and lower the rate.

Q: How can individual states help solve national issues such as health insurance?

A: I am the past chairman of the National Governors Association, so I am a big proponent of the states as laboratories of democracy. There are 50 different states; all are doing their own kind of things, experimenting, innovating, find better ways to provide goods and services. Some of us are very successful, some come a little shorter. But we learn from each other, that's what's beautiful about the independent states. My belief is if every state can be healthy then the country can be healthy. When I was the chairman of the National Governors Association I said "Governors, go back to your respective states, do what you need to do in order to make your state successful. You can copy us. It is not a zero sum game." We'll evolve quite similarly, not exactly the same. It is not a one size fits all, which we see too much out of Washington D.C. Particularly when it comes to health care, we have big divides about whether we should have a large government or should it all be done in the private sector. I think that the federal government that takes our taxes should block grant the money back to the states, no strings attached. Every state gets their X amount of dollars and then we can create our own health care system inside the states.

Q: That doesn't seem like a likely scenario considering the divide between Republicans and Democrats.

A: Here is the interesting political side of it. The Republicans say they want to repeal and replace Obamacare, but with what? The Democrats understand that the Affordable Care Act is not perfect. I talked to President Obama about it, he recognizes the ACA is not perfect, it needs modification. It needs improvement. So they want to modify and improve, with what? If they get together they'd be in very similar places. I am suggesting more power to the states would be a great endgame. The more liberal states can have more liberal approach, the more conservative approach can have a more conservative approach and everybody can live happily ever after.

Q: It's hard to be optimistic about Washington. Partisanship appears to have overtaken pragmatism.

A: Ideology gets in the way of pragmatism. I am a conservative but I am a common sense, practical conservative, I expect we'll have the same thing on the liberal side, a common sense practical liberal. We need to understand that compromise is not a dirty word. When we want to advance policy sometime we need to bend a little bit to get things done. Half a loaf is better than no loaf. So I hope that would happen. The good thing is that Mike Pence, the vice president, is a former governor. He understands the states' rights issue. President Trump has embraced the block grant approach, so maybe they'll get something done.

Q: What can the federal government learn from Utah?

A: "I call it the Utah Model. I would suggest other states to copy this model, it produces very good outcomes. I'd say to Washington D.C., do exactly what we are doing in Utah, if you want to learn from the best. We have a very efficient government, we have competitive tax rates, we have simplified regulations, we have good education system, we a great workforce, we have good principles and good values. We are a great model, people ought to try to replicate what we are doing in Utah and certainly in Washington D.C.