GE Healthcare Partners with Medical Imaging Analytics Company
DiA Imaging Analysis develops machine learning-based tools for automated and quick image analysis
General Electric subsidiary GE Healthcare, an international manufacturer and distributor of medical devices and agents, has signed a multi-year, non-exclusive agreement with Israel-based DiA Imaging Analysis Ltd., the companies announced Monday.

For daily updates, subscribe to our newsletter by clicking here.

Founded in 2009 in the southern Israeli city of Beer Sheva, DiA uses pattern recognition and machine learning algorithms for the creation of automated image analysis and interpretation tools. The company's software can be implemented in ultrasound devices and medical picture archiving and communication systems (PACS).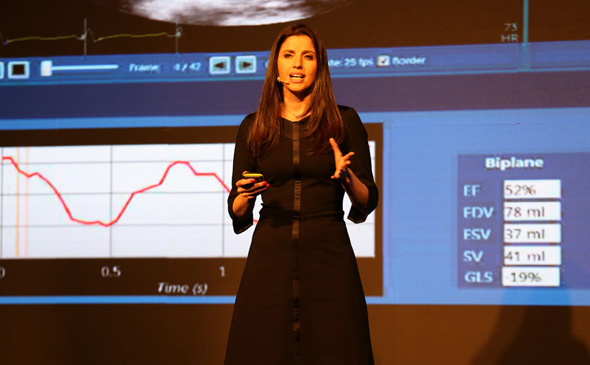 DiA Co-Founder and CEO Hila Goldman Aslan

DiA's technology has received approval from the U.S. Food and Drug Administration and is also certified in Europe. The company has 14 employees listed in its LinkedIn account.

Under the agreement, DiA will tailor its imaging analysis technology to GE Healthcare's ultrasound devices.

"These tools would bring new capabilities to ultrasound at the point of care," said Rob Walton, general manager of Primary & Affordable Care at GE Healthcare.

Following the introduction its ultrasound analysis software, DiA is planning to market new imaging products, said Hila Goldman Aslan, DiA's CEO and co-founder. "Our advanced automated tools for point-of-care echo ultrasound analysis are first to market, and we are planning to soon launch additional automated imaging analysis tools as part of our vision to improve patient care."

This is the third partnership DiA announced in the past few months. In August the company announced a partnership with Wollongong, Australia-headquartered Central Data Networks PTY Ltd., which develops IT software for physicians and hospitals. CDN announced it would integrate DiA's tools into its various products. In September, DiA announced a partnership with Shenyang, China-headquartered Neusoft Medical Systems Co., Ltd., a medical device developer and manufacturer. Neusoft announced it would integrate DiA's technology into its line of ultrasound products.

Among DiA's investors are Beijing-headquartered ShengJing Group, one of China's largest consulting and private equity investment firms, and CE Ventures, an Israel-based venture fund backed by Chinese peer-to-peer lending company CreditEase.