Warburg Pincus Proceeds with Tender Offer for Email Protection Company Cyren
The private equity firm currently holds a 21.3% in Nasdaq-listed Cyren, after buying around 10 million shares earlier this month
New York-based private equity firm Warburg Pincus, LLC made a cash tender offer to purchase around 31 million ordinary shares at $2.5 per share of Israel-linked internet security company Cyren Ltd., the company announced Monday.

For daily updates, subscribe to our newsletter by clicking here.

If successful, the acquisition will give Warburg Pincus an approximate 75% stake in Cyren, on a partially diluted basis.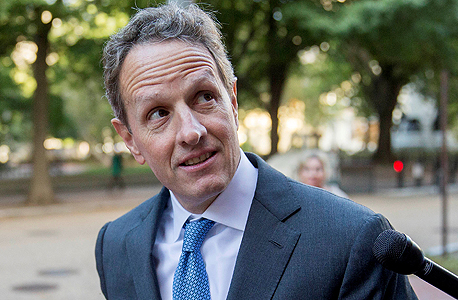 Warburg Pincus president Timothy GeithnerWarburg Pincus president Timothy Geithner. Photograph: Bloomberg

Earlier this month Warburg Pincus paid $19.6 million in private placement for around 10.6 million Cyren shares, giving it a 21.3% stake in the company. At the time, the firm announced its intention to make the tender offer, stating that Cyren's board of directors resolved to recommend in favor of shareholders tendering their Cyren shares.

The tender's initial offer period will expire on on December 19 unless extended.

McLean, Virginia-headquarters Cyren provides customers like Google and Microsoft with cyber security, anti-phishing and email protection services. Originally established in Israel in 1991, the company started as an email services provider and changed direction after its 1999 Nasdaq IPO. The company changed its name in 2014. Cyren reported revenues of $7.6 million and a GAAP net loss of $3.6 million for the third quarter of 2017.

Established in 1966, Manhattan-headquartered Warburg Pincus has over $44 billion in assets under management.