New CEO Steers Teva Back to Generics
A reorganization plan announced by the company Monday would see the troubled drugmaker return to its core competencies, despite market pressures
Agile, lean and profitable: that's the vision Teva's new CEO Kåre Schultz described Monday when Teva Pharmaceutical industries Ltd. unveiled its promised reconstruction plan, which will see it pivoting back to a generic focus.

For daily updates, subscribe to our newsletter by clicking here.

Teva is currently carrying $34.7 billion in debt following its $40.5 billion acquisition of Allergan Generics in 2016. Dwindling reported and expected revenues, plummeting prices and changing regulation in the generic drug market, and the launch of generic rivals to its cash cow for multiple sclerosis Copaxone, all cast doubt on the company's ability to meet its financial obligations.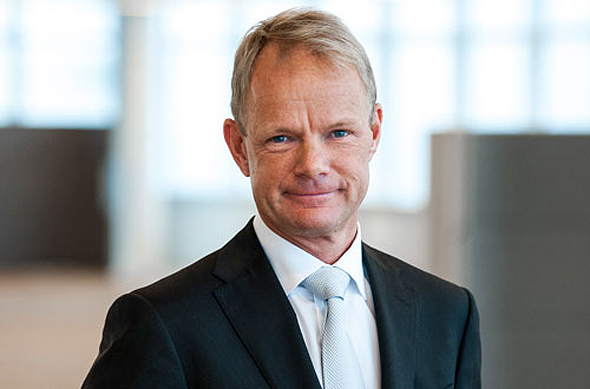 CEO Kåre Schultz. Photo: PR

Last week Calcalist reported that Teva will axe thousands of jobs in the U.S. and Israel as part of its upcoming rehaul. The layoff plan is still being worked out and an official announcement will take place mid December.

The main change the troubled company will make is the grouping of its generic and specialty businesses under one commercial umbrella, with three main divisions, in North America, Europe and growth markets. After the reorganization, each division will individually manage its generic, specialty and over-the-counter assets. The consolidation renders redundant the positions of Rob Koremans, CEO of Teva's global specialty drugs, and Dipankar Bhattacharjee, Teva's generics CEO, and the two will leave the company by the end of December.

Another top executive being cut is chief scientific officer Michael Hayden, who currently heads Teva's research and development for both its generic and specialty businesses. The former generic and specialty R&D organizations will be combined into one global group with overall responsibility for all R&D activities, headed by Hafrun Fridriksdottir, until now Teva's president of global generics R&D. Prior to joining Teva, Ms. Fridriksdottir served as senior vice president and president of global generics R&D in Allergan PLC.

Teva's top priority at the moment is to stabilize the company's operating profit and cash flow through a focus on short-term revenue and cash generation, Mr. Schultz said in the announcement. Teva will do so by putting a special emphasis on its generic drug portfolio, choosing generics according to the drugs' market scope and profit potential.

Most of Teva's brand drug focus will be now on two drugs. Austedo, used for treating a group of neurological movement disorders called dyskinesia, was recently approved by the U.S. Food and Drug Administration. The second is migraine drug fremanezumab, submitted to the FDA last month and expected to be approved next year, which has the potential of netting Teva $600-700 million a year.

"Teva's announcement is not about streamlining through layoffs but about reorganization," Steven Tepper, senior Pharma analyst for IBI Investment House Ltd., told Calcalist. "The new structure cancels the distinction between specialty and generic drugs."

According to Mr. Tepper, the bottom line is that Teva won't be dual drug company anymore, but a generic drug company. "This is a move to sell the specialty drug business in order to save a generic drug company with a smaller debt. The question is just how much they will sell and whether it's justified to sell the present for the future."

A Bloomberg Monday report said Teva rescinded its plans to sell its oncology division after failing to win offers at the $1 billion price it was asking. The divestment was led by interim CEO Yitzhak Peterburg.