The Turkish Government Expands Its Crackdown on Web Freedom
The Turkish government is acting harshly against the opposition's online activity. Now a new Turkish search engine could help the government monitor its citizens online
Following the July 2016 coup attempt in Turkey, the Turkish regime has acted to systematically suppress all activities of opposition in the country. It has done so by making multiple arrests, closing opposition-affiliated institutions, and firing government employees who spoke against the regime.
For daily updates, subscribe to our newsletter by clicking here.
The government has also acted harshly against people who post anti-government material to their social media accounts. According to data from Turkey's Justice Ministry, by the end of 2016, approximately 10,000 people were investigated on what the Turkish government calls "suspicion of spreading terror-related propaganda" and "offending senior government officials." The investigations were carried out in relation to social media activities. 1,080 people were ultimately charged with offending the Turkish president Recep Tayyip Erdoğan.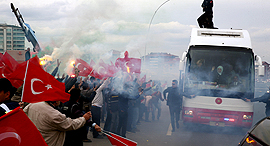 Demostrations in Turkey. Photo: Reuters
Here is a list of the arrests and convictions carried out against web and social media users since the beginning of the month, as reported by the Stockholm Center for Freedom (SCF):
On November 1, The SCF reported that Turkish teacher Fırat Erdem was sentenced to seven years and seven months in jail for defaming state institutions and insulting the Turkish president. Mr. Erdem was detained on December 29, 2015, after publishing a post criticizing President Erdoğan to his Facebook page.
On November 4, the SCF reported that Meral Danış Beştaş, a deputy of the pro-Kurdish Peoples' Democratic Party (HDP), was sentenced to two years and three months in jail on charges pertaining to her social media activity. Ms. Beştaş implied on social media and in a speech she made in February 2016 that Turkish police were deliberately provoking violence against Kurdish demonstrators.
On November 8, the organization reported that journalist Mutlu Çölgeçen had been jailed in Turkey for 432 days over a series of tweets. Mr. Çölgeçen is accused of terrorism and plotting a coup, and is reportedly facing up to 15 years in jail.
On November 9, the SCF reported that Turkey's anti-terror police had detained 21 people over social media posts in the western province of İzmir.
On November 13, the SCF reported that ten people were detained in Ankara as part of an operation pertaining to social media activity. Evren Çevik, a member of the HDP, is among the detainees.
The government's efforts to suppress opposition include, in addition to arrests, limitations on web activity and measures for monitoring citizens' activity online.
On November 5, the Turkish pro-government newspaper Daily Sabah reported that Turkish web search engine Yaani reached one million downloads within a week of its October 25 launch, making it the most downloaded domestic application ever. Developed by Turkcell, Turkey's leading mobile phone operator, the search engine is designed to understand the unique syntax of Turkish, ensuring better results for searches made in Turkish.
In a statement, Turkcell CEO said that data from Yaani searches would be collected and processed to promote the national economy. For those who read between the lines, it appears that the search engine will be used as a tool to create a large database that allows the government to monitor and analyze user activity.
Three days after the Daily Sabah report, Swedish media outlet Arbetet reported that state employees in Turkey had been forced to report passwords of their, and their families', social media accounts. According to the report, the 22,000 employees of the State Hydraulic Works (DSI), the Turkish agency responsible for national water resources, were required to share details on their newspaper subscriptions, bank accounts, charity contributions and union affiliations. Employees were also forced to sign an authorization allowing their employers to access their personal social media accounts.
These steps by the Turkish regime are a severe violation of human rights. The restrictions on individual freedom and freedom of expression represent a dramatic decline of the Turkish democracy. It is important to remember, in this context, that Turkey had aspired to join the European Union.
The Stockholm Center for Freedom is a non-profit organization founded by Turkish journalists living in exile in Sweden due to limitations on press freedom in Turkey.
In an emailed response, Turkcell told Calcalist it does not collect any user data without permission, adding that the company protects its customers' privacy and comply with the very latest legal requirements, both in Turkey and globally.
Dr. Tal Pavel is an expert on internet and cybersecurity in the Middle East and Arab world. He is the founder and CEO of Middleeasternet.com