With Taykey Acquisition, Innovid Hopes to Improve Video Ad Targeting
Advertisers want more data about online viewer engagement, Innovid says
Israeli-linked video marketing platform Innovid announced Thursday it agreed to buy real-time data intelligence company Taykey, Inc.

Financial terms of the deal were not disclosed.

For daily updates, subscribe to our newsletter by clicking here.

The companies said that as part of the acquisition, Innovid would gain access to Taykey's technology, big data platform and 14 patents pertaining to web content analyzing, including patents related to natural language processing and AI-based machine learning. Taykey's product development team will join Innovid, the companies said.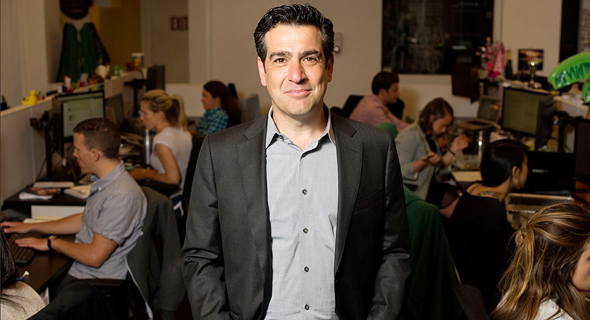 Zvika Netter, CEO and co-founder of Innovid. Photo: David Paxton

Innovid said that the deal would allow the company to provide its clients with new insights on video engagement. "We were looking for a technology that'll allow us to analyze mass amounts of web and social media content and gain insight into the environment in which our ads appear, which is very important to advertisers today," Zvika Netter, CEO and co-founder of Innovid, told Calcalist in an interview Thursday.

According to Innovid, the company's technology powers a third of the video ads in the U.S., with clients including Disney, Warner Brothers, Toyota, Samsung, and Sony. Founded in 2007, Innovid is headquartered in New York City, with additional offices in Los Angeles, San Francisco, Chicago, Detroit, London, Sydney, and Tel Aviv. The company has raised more than $65 million in funding from investors including Israeli venture capital firm Genesis Partners, Silicon Valley Bank Financial Group, Cisco Investments, and Menlo Park, California-based Sequoia Capital Operations, LLC.

Founded in 2009 in Herzliya, nine miles north of Tel Aviv, Taykey is an advertising technology company providing analytics and targeting tools to marketers. Taykey has raised $32 million in funding from backers such as Innovation Endeavors, the venture capital fund of former Google CEO Eric Schmidt, Sequoia Capital, and Softbank Capital. The company operates offices in New York City, London, Chicago and San Francisco.