ZipRecruiter Aims for a Single Day Hiring Process
CEO Ian Siegel said that the recruitment platform is increasingly counting on algorithms to make up for the fact that employers are "terrible" at writing job descriptions
When Ian Siegel, co-founder and CEO of California-based ZipRecruiter Inc., wanted to recruit artificial intelligence specialists to work on his job listing aggregation platform, he found himself vying for top talent head to head with Google, Facebook and Linkedin. Silicon Valley could not spare the talent he needed, and so Mr. Siegel looked to Israel, where ZipRecruiter opened a research and development center in 2015.

For daily updates, subscribe to our newsletter by clicking here.

Since then, the company's research and development center in Tel Aviv more than doubled its size, from 12 employees to 30. In an interview with Calcalist, Mr. Siegel said the company is planning to hire 100 more employees in Israel in 2018. The Tel Aviv center is dedicated to artificial intelligence technologies, and the developments that stemmed from it have differentiated ZipRecruiter from other web-based human resources services such as Monster.com and CareerBuilder, Mr. Siegel said.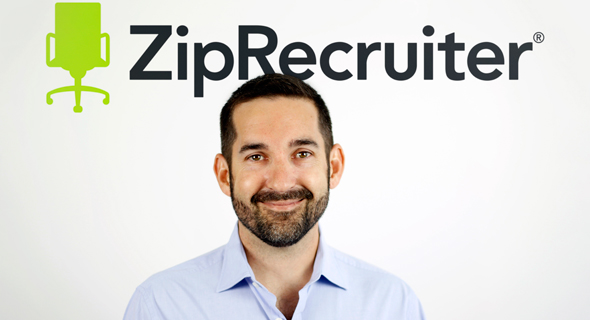 ZipRecruiter CEO Ian Siegel. Photo: ZipRecruiter

ZipRecruiter had been using AI technologies to identify and match candidates and employers. Now, Mr. Siegel has set his sight on a new goal: to make the entire recruitment process shorter, preferably to under one day. Mr. Siegel told Calcalist he wants to make recruiting employees a "real-time activity," in which employers publish an ad and immediately begin interacting with potential candidates. "We are really close," he said. "People do not understand what a paradigm shift we are on the cusp of here. because if you could literally sit down and start engaging with high-quality candidates, you would decide to recruit anyone to hire that day or maybe the next day."

Before starting ZipRecruiter, Mr. Siegel had more than two decades of experience recruiting tech employees for companies such as Stamps.com, Ticketmaster, WarmerBros.com and Rent.com. When he was looking candidates, Mr. Siegel used resources like Monster.com, Craigslist, and CareerBuilder, publishing the same ads over and over. "I thought there was a need for a magic button that could publish the ads everywhere at once," he said.

ZipRecruiter is a job and employee search platform that simultaneously publishes its ads on other job search platforms, approximately 1000 websites. The ZipRecruiter platform also aggregates ads from other sites, to become one of the most comprehensive databases for job postings. According to Mr. Siegel, at any given moment there are between six and nine million active job postings on the platform.

"We both partner with and compete with many other job sites," Mr. Siegel said. "ZipRecruiter at its core is a distribution engine. Our value proposition is 'give us a job, and we'll put it on every site you care about,' he added.

Founded in 2010, ZipRecruiter grew steadily for years. The company's big break arrived in 2014 when it completed a $63 million funding round led by Menlo Park, California-based investment firm Institutional Venture Partners, with participation from Basepoint Ventures LLC and Industry Ventures, LLC. With the money came fast expansion, and the company needed to reconsider the premise of its activity.

"For the first five years of our existence, if you were to ask me how to get quality candidates, my answer would've been that we sell haystacks, we don't sell needles," Mr. Siegel said. "The way we solved the quality issue initially was to send more and more candidates." Eventually, Mr. Siegel said, employers began complaining about the volume of candidates ZipRecruiter sent their way. In their effort to focus on quality, ZipRecruiter hired a team of machine learning specialists in Israel. The result was an algorithm that can scour large numbers of job searchers, detect appropriate candidates, and publish a job specifically to them. "That has been transformative to our service," Mr. Siegel said. "When you do broad distribution, one of six candidates gets a 'thumbs up.' When you do an algorithmic distribution the approval rates shifts to four out of six."

ZipRecruiter analyzes data gathered from past searches, such as the number of times employers looked at or contacted a candidate, and how many times candidates received a 'thumbs up' or 'thumbs down.' It then uses this information to detect appropriate candidates for future listings.

The company also analyzes user data to research the way employers advertise and hire for open positions. One of the issues the company had been looking into is gender bias. "We did a study of the language that gets used in job descriptions," Mr. Siegel said. "We separated jobs based on the percentage of male to female applicants. There were jobs that were getting all men applicants or all women. We saw that there were trigger words for gender bias. For example, jobs descriptions that asked whether the candidate was an 'aggressive problem solver' received only male candidates. Ads that said 'join our nurturing customer service team' got only women. One word in a job description could really change the composition of who applies to your job," he concluded.

Mr. Siegel said that ZipRecruiter is increasingly counting on its algorithms to make up for employers' shortcomings. "Employers are terrible at writing job descriptions, so the moment an employer selects one candidate and gives them a 'thumbs up,' we use our algorithm to match other candidates that are similar to that one successful candidate," he explained, adding that this can improve the approval statistics to one out of three candidates. "Our job is to deduce what people are actually looking for," Mr. Siegel said.

In September, Facebook agreed to partner with ZipRecruiter posting jobs published on ZipRecruiter on Facebook.

In June, ZipRecruiter announced it partnered with Google to introduce a new search engine feature that would promote ZipRecruiter job listings and direct jobseekers to the ZipRecruiter platform. Both companies recently launched a job search product.

"The big guys are getting in," Mr. Siegel said. "I hope we can make the Facebook social network into more of a job finding platform. Google also is determined to bring the powerhouse search they have to job seeking. Each of them brings something special and substantial to the job market and I'm excited to work with both of them."