Israeli Stent Maker Medinol Receives FDA Approval for Drug-Eluting Stent
Drug-eluting stents are coated with a slow-release substance that prevents tissue buildup in arteries, generally resulting in lower rates of major cardiac events
Tel Aviv-headquartered stent company Medinol Ltd. received approval from the U.S. Food and Drug Administration for its first drug-eluting stent, the company announced Thursday.

For daily updates, subscribe to our newsletter by clicking here.

The stent received a CE Mark (European conformity) in August and is already used by physicians in the continent, according to Medinol.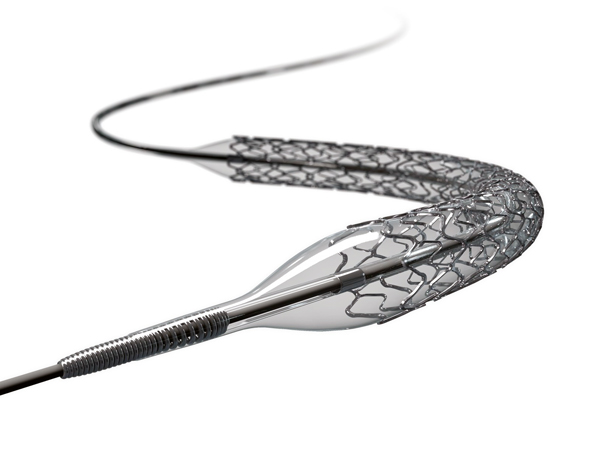 Medinol's new stent. Photo: Medinol

Medinol develops stents for Percutaneous Coronary Intervention (PCI), a non-surgical procedure intended to improve blood flow to the heart. In the procedure, a catheter is inserted into arteries blocked by plaque deposits, which can be made of fat, cholesterol, calcium and other blood-borne substances. After the catheter is used to re-inflate the narrowed arteries, a stent can be placed to keep the passage open.

Until now, Medinol has developed and distributed only bare metal stents, which carry a higher risk of tissue growing into the stent and causing the arteries to narrow again. Drug-eluting stents are coated with a slow release substance that blocks that cell growth, generally resulting in lower rates of major cardiac events.

Medinol's new stent has been tested in 1,919 patients in a randomized clinical trial that showed a 5.4% rate of target lesion failure (TLF), the lowest of any pivotal study in the U.S., the company said. TLF is a complex event that counts several symptoms, including cardiac death.The study also showed 0% of rate of late stent thrombosis, the sudden blockage of a stented artery, after 12 months.

Medinol has a long-term distribution agreement with Cordis, a subsidiary of Cardinal Health, a Dublin, Ohio-based distributor of pharmaceuticals and medical products. Before being acquired from Johnson & Johnson in 2015 for almost $2 billion, Cordis was a major player in the bare metal stent market, until J&J left the market in 2011 after drug-eluting stents started gaining traction.

"Cordis is committed to ensuring physicians will soon have this new DES in their Cath Labs to deliver the best patient care available," said Luis Davila, vice president of R&D at Cordis, in a statement.

Established in 1992, privately-held Medinol employs around 400 people in Israel and the U.S. In 2005, the company won $750 million from medical manufacturer Boston Scientific Corporation, after suing for breach of conduct and theft.