Israel Planning Major New Solar Power Station
The proposed photovoltaic farm would provide almost five times more electricity than Israel's current largest solar array
A new solar power plant with nearly five times more capacity than Israel's current largest solar array will be built in the north of the country with construction expected to begin as early as the first half of next year, according to draft proposal documents from the Ministry of Energy that were obtained by Calcalist.

For daily updates, subscribe to our newsletter by clicking here.

The ministry has shared the draft documents, which proposes the construction of a 250-megawatt solar farm and for two other power plants, with other Israeli government ministers, completing one of the last procedural requirements before the plan's approval is finalized.

With a capacity of 250 megawatts, the new photovoltaic plant would provide 2% of Israel's current electricity output. The plan also includes a 70-megawatt solar plant that will be located in a different part of northern Israel and a 450-megawatt natural gas-fired power plant in the center of the country.

Menora Mivtachim Holdings Ltd., one of Israel's largest insurers, is the developer of the larger solar plant. The company expects the project to cost between $230-290 million, according to an employee of the company who spoke to Calcalist on condition of anonymity.

In October, Menorah announced a partnership with Canadian Solar Inc. to establish a $60 million investment fund focused on solar energy.

The smaller solar power station will be developed by Israel-based Doral Group Ltd. and Kesem Energy Ltd. will build the conventional power generation facility.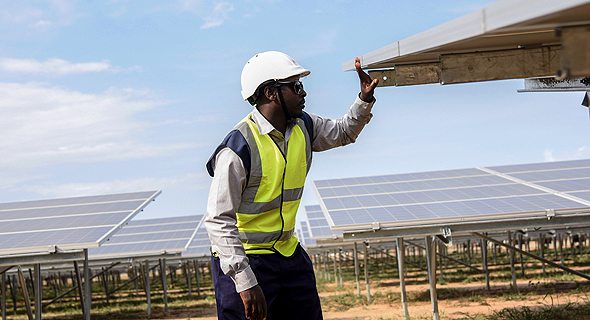 Solar farm (Illustration). Photo: AP

The draft proposal indicates that the Ministry of Energy will submit the plans to Israel's National Infrastructure Committee, a governmental body with the authority to fast track critical projects.

Despite abundant year-round sunshine, Israel lags behind much of the world in solar power, relying mostly on natural gas and coal for electricity. With 766 megawatts of installed solar capacity, according to the World Resource Council, Israel is comparable to Denmark, which ranks 14th among European countries. Germany's solar capacity stands at 39.6 gigawatts, Italy's at 18.9 gigawatts, and Belgium's at 3.2 gigawatts.