Opinion
Jerusalem's Online Intifada is Already Underway
President Trump succeeded in what many others have failed in recent years—raising the Palestinian issue back to the top of the Arab agenda
President Trump's Wednesday announcement stating the U.S. intends to recognize Jerusalem as Israel's capital raises fears of a third Intifada. Among Arab social media users, this Intifada is already underway. Over the past 36 hours, the issue of Jerusalem (Al Quds) dominated the online discussion among Arab users.

For daily updates, subscribe to our newsletter by clicking here .

The voices of those calling to violently act against Israel and the U.S. is heard loud and clear, exposing the rifts within the Arab World. The views expressed on social media greatly differ from those officially voiced by Arab governments seen as moderate, the same governments whose interests have aligned with Israel's over the last decade.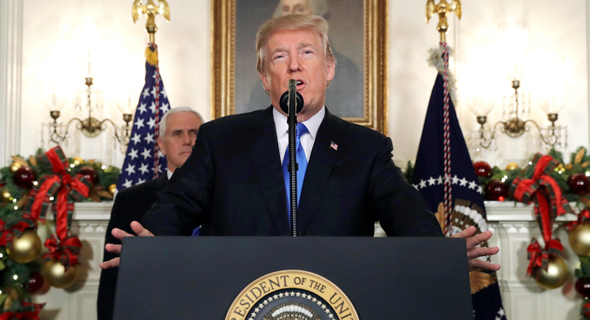 President Trump's Jerusalem announcement. Photo: AP

President Trump succeeded in what many others have failed in recent years—raising the Palestinian issue back to the top of the Arab agenda. Since the outbreak of the so-called "Arab Spring" in late 2010, the Palestinian issue was relatively overlooked. As reflected in social media, since 2010, Arab countries were far busier with internal turmoils, the rise of ISIS and its affiliates, and the increasing involvement of Iran in regional affairs.

Over the past days, Arab users have launched Twitter campaigns, some of which have gone viral, with hashtags including "Al Quds The Eternal Capital Of Palestine," "Al Quds Arab and Islamic," and "Al Quds To Stay Arab." Criticism expressed in related tweets is often directed not towards the Trump Administration, but rather towards Arab governments, mainly in the oil-rich Gulf countries, now accused of "betraying" the Palestinians.

"Trump wants to transfer the embassy to Jerusalem, what are you going to do? Denounce it? Damn you, You back Zionists while you use your weapons to kill other Arabs. We can only pray for Allah's help," reads one viral post, reflecting the public sentiment towards Arab leaders nowadays.

The current debate on Jerusalem is also part of the escalating tensions between Islamists, namely the camp led by Qatar and Turkey, and the Saudi led moderate camp, which includes Egypt, Jordan and the U.A.E. Emboldened by President Trump's stern messages directed toward Iran, in recent months, Saudi and the U.A.E. have cemented their ties with Washington.

Mr. Trump's announcement came as a blow to these Arab leaders, and is now being used by their opponents.

At the center of the discussion on social media were comments made by Jordanian television host Ola al Faris, according to which Riyadh "approved" President Trump's announcement and cooperated with the U.S. President in determining the timing of the announcement. These comments were described by Saudi social media users as "insulting."

Bad blood between Gulf "moderates" and Palestinians over Jerusalem came to the fore in the last two weeks after Saudi Twitter users launched provocative campaigns with hashtags including "Al Quds Is Not Our Problem" and "Riyadh Is Much Important Than Al Quds." These campaigns were published amid an ongoing flirt between the Palestinian Authority and Hamas, which maintains close ties with Tehran.

In recent months Saudi and its allies promoted counter-terror and anti-Iranian measures. Now they find themselves under fire on a topic which is almost a consensus in Arab countries, moderate and not.

Doron Peskin is an analyst of Middle Eastern economies and the head of Concord MENA, a company specializing in public sentiment analysis of Arab countries.