Gilead Builds on Kite Pharma Acquisition, Buys Second CAR-T Therapy Company
California-based Cell Design Labs will be acquired in a deal valued at up to $567 million
Gilead Sciences Inc. will acquire privately-held cellular cancer therapy company Cell Design Labs Inc. in a deal that values Cell Design Labs at up to $567 million, the companies announced Thursday.

For daily updates, subscribe to our newsletter by clicking here.

This is Gilead's second acquisition of a company specializing in CAR-T therapy, a ground-breaking technology used to engineer a patient's own immune cells to fight cancer in cases that do not respond to more conventional therapies. In August, Gilead announced its acquisition of Santa Monica, California-headquartered Kite Pharma for $11.9 billion, marking its first foray into the cancer treatment market and specifically into cellular therapy.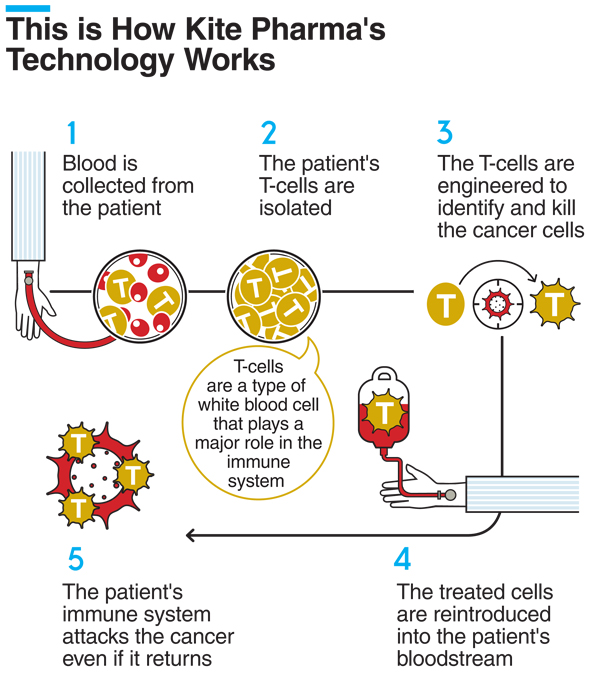 CAR-T therapy

By buying a second company specializing in the technology, Gilead is cementing its market position. Santa Monica, California-based Cell Design Labs is a pre-clinical company founded in 2015. The company is currently developing two more precise CAR-T therapy technologies: synNotch, which enables a more specific targeting of tumors and has the potential to expand the technology to additional cancer types, and Throttle, which uses small molecules to turn the CAT-T treatment on and off.

The structure of the deal includes an upfront payment of $175 million and additional installments of up to $322 million depending on Cell Design Labs reaching certain milestones. Gilead already owns a 12.2% stake in the privately-held company through Kite Pharma, and is now seeking full control.

Speaking at a Tel Aviv conference last month, Kite Pharma founder Arie Belldegrun said that Kite is approached by companies developing immunotherapy treatments every week. But Kite has been working with Cell Design Labs since its establishment, with Mr. Belldegrun himself both an investor in the company and a member of its board.

Kite "truly appreciates the groundbreaking nature of their technology platforms," said David D. Chang, Worldwide Head of Research and Development and Chief Medical Officer at Kite, in the announcement. "We've already integrated Throttle Switch into our CAR-T pipeline and look forward to exploring the full depth and breadth of the technologies of Gilead, Kite and Cell Design Labs to expand the cell therapy toolbox."

Kite Pharma's CAR-T therapy for a specific blood cancer called non-Hodgkin lymphoma (NHL) was approved by the U.S. Food and Drug Administration in October, with one dose of the drug priced at $373,000. The treatment's highly personalized nature is one of the reasons for its exceedingly high price. The only other CAR-T therapy currently approved by the FDA is Novartis International AG's Kymriah, which has a single-dose price of $475,000. At the moment, for a company that made most of its money until now off HIV and hepatitis C drugs, Gilead's bet seems to have already partly paid off.

"Gilead cracked the HIV market, and then the hepatitis C market, and now they want to crack the cancer market," Mr. Belldegrun said last month.