WeWork to Open Its Largest Ever Coworking Space in Newly Leased Shanghai Building
The ten-stories Downtown Shanghai location is part of the company's expansion plan in China
Coworking real estate company WeWork has leased an office building in Shanghai, where it intends to open its largest coworking space to date, a spokesperson for the company confirmed Tuesday in a phone conversation with Calcalist.

For daily updates, subscribe to our newsletter by clicking here.

Mingtiandi, a Shanghai-based online platform focused on Asia real estate news, first reported the deal on Monday.

The downtown Shanghai building has ten stories and covers 290,625-square-feet (27,000-square-meters). The new location is set to open in 2018.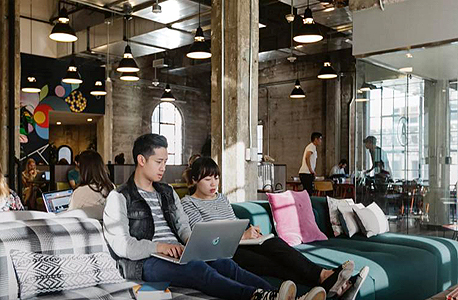 WeWork Shanghai. Photo: WeWork

In July, WeWork announced it received a $500 million investment from Japanese telecommunication company Softbank and Chinese private equity firm Hony Capital, which WeWork said it will use to accelerate its expansion in China.

WeWork intends to increase its presence in Beijing, Hong Kong, and Shanghai, as well as open locations in other large cities in China, the company said in the statement. The company expects to have about 15,000 members in the country by the end of the year, it said in the statement.

WeWork currently operates 12 locations in China according to the company's website. It competes with China-based office space company UrWork, which was founded in 2015. UrWork operates over 70 locations in 20 major cities and is valued at $1.3 billion.

Earlier this year, UrWork announced a $3 million investment in Indonesia-based shared workspace company ReWork and opened its first location in Singapore. The company also announced plans to open offices in Los Angeles, San Francisco, New York and London.

In September, WeWork filed a lawsuit in a U.S. District Court, alleging that UrWork had infringed on its trademark name, logo and design concept. In the lawsuit, WeWork demanded the court stops the launch of UrWork's Manhattan offices.

Founded in New York in 2010, WeWork operates more than 155 locations in 50 cities and 15 countries, and has more than 130,000 members, according to the company's website. It is currently valued at $20 billion after a $4.4 billion investment from Softbank announced in August.