Israeli Ministry of Labor Announces a $3 Million Investment in Women Coding Program
The investment is part of a plan to offer free coding training for women, a joint venture with Israel-based women software developers organization She Codes
The Israeli Ministry of Labor announced Thursday the launch of a joint venture with She Codes, an Israeli organization promoting the inclusion of women into the tech industry. The three-year plan will include establishing 40 teaching centers and training 4,440 women for work in the tech sector. The Labor Ministry and She Codes will each invest approximately $3 million (NIS 10 million) in the project.
For daily updates, subscribe to our newsletter by clicking here.
She codes is a community organization that offers free training for women who wish to enter the lucrative tech sector. She Codes also supports networking and mentorship opportunities for women in tech. According to the organization's website, it has over 10,000 members and operates 25 education centers in Israel, supported by 200 volunteers.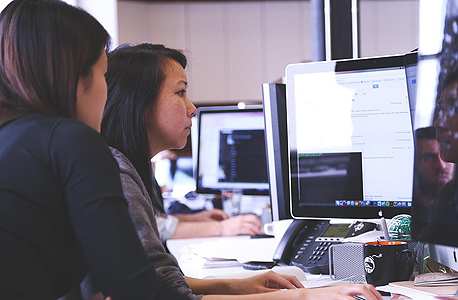 Programmers (illustration)
Yael Mazuz, who oversees the collaboration on behalf of the Israeli Labor Ministry, said the new venture would focus heavily on job placement. "So far, job placement has been a byproduct of the activity at She Codes. Now we are diverting a major part of the investment towards establishing relationships with employers, training for job interviews, and other activities designed to improve job placement," Ms. Mazuz said.
In 2015 women made up less than 30% of all Israeli students in tech-related fields, according to data gathered by the Israeli Labor Ministry. Another study, published in August by the Israeli government has shown that women are represented in lower numbers in every stage of the tech employment cycle, from education to entry-level jobs, and most acutely in higher-level positions. Women make up 24.3% of all tech employees in the country, a number significantly lower than the percentage women represent in Israel's working population (49.5%).
According to data gathered by Start-Up Nation Central (SNC), a Tel Aviv-based non-profit organization connecting international entities with Israeli startups that also manages an Israel-linked startup deals database, only about 10.5% out of Israeli startup founders since 2014 were women.