Koch Industries to Invest Up to $150 Million in Medical Device Company InSightec
Israel-based InSightec develops ultrasound devices that use MRI guidance to target specific body tissues, providing treatment for a variety of conditions
Koch Industries Inc. is leading an investment round of up $150 million in Haifa, Israel-based medical device company Insightec Ltd., the companies announced Thursday.

For daily updates, subscribe to our newsletter by clicking here.

The deal reflects a valuation of $460 million for InSightec, according to a filing that existing shareholder Elbit Imaging Ltd. submitted Thursday to the U.S. Securities and Exchange Commission.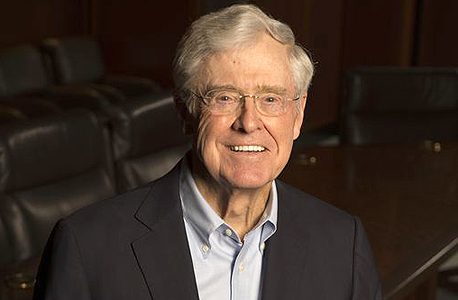 Charles Koch. Photo: Robert Deutsch

Founded in 1999, InSightec develops ultrasound devices that use MRI guidance to target specific body tissues, providing treatment for conditions like essential tremor, painful bone metastases and uterine fibroids.

The structure of the deal has two phases. First, Koch, through its subsidiary Koch Disruptive Technologies, will buy preferred stock issued by InSightec for $75 million, acquiring a 17% stake in the company by January 31, 2018. Afterward, Koch and other investors will have the option of purchasing additional preferred stocks. The deal stipulates that Koch's share of the preferred stock must be at least 66% after each phase.

Israel-based holding company Elbit, which stands to see its stake diluted from 31% to as low 22%, said in the SEC filing that it would support the deal.

InSightec will put the funds it is raising into marketing and into research on ultrasound treatments for Parkinson's disease, Alzheimer's disease and brain tumors, the company said

"Hospitals around the world are increasingly pursuing incisionless treatment options for their patients using our focused ultrasound therapy," InSightec CEO and Chairman Maurice R. Ferré said in a statement.