Warburg Pincus Completes Tender Offer for Email Protection Company Cyren
After payment, the private equity firm will own approximately 52% of outstanding Cyren Shares
New York-based private equity firm Warburg Pincus LLC completed its cash tender offer to Israel-linked internet security company Cyren Ltd., the company announced Monday. After the payment is processed, Warburg Pincus will own approximately 52% of Cyren's outstanding shares, or 49% of Cyren's shares on a partially diluted basis.

For daily updates, subscribe to our newsletter by clicking here.

In November, Warburg Pincus paid $19.6 million in private placement for approximately 10.6 million Cyren shares, gaining a 21.3% stake in the company. At the time Warburg Pincus announced its intention to acquire a 75% stake in Cyren.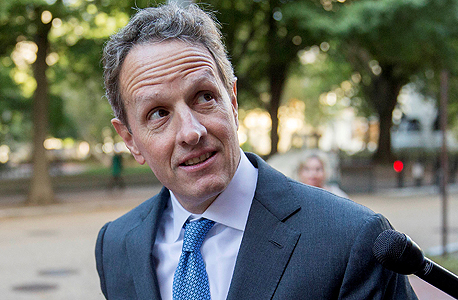 Warburg Pincus president Timothy Geithner. Photograph: Bloomberg
McLean, Virginia-headquarters Cyren provides customers like Google and Microsoft with cybersecurity, anti-phishing, and email protection services. The company was founded in Israel in 1991 as an email services provider and changed direction after its 1999 Nasdaq IPO. The company reported revenues of $7.6 million and a GAAP net loss of $3.6 million for the third quarter of 2017.
Warburg Pincus has over $44 billion in assets under management. Last week the firm announced the closing of a $2.3 billion fund intended for financial services investments. The fund was launched in June with a target of $1.6 million.