Qatar's Rearmament Efforts Are Leverage Against Boycott
Qatar has recently presented Chinese-made ballistic missile launchers during a military parade, demonstrating its strong ties with China and its military aspirations against the backdrop of the Gulf crisis
During its national day parade on December 15, Qatar showcased Chinese-made SY400 BP-12A short-range guided ballistic missile launchers, which have a range of about 400 kilometers and could be fitted with different types of warheads.

For daily updates, subscribe to our newsletter by clicking here.

Qatar-China ties have strengthened considerably in recent years. Last year, Qatar supplied 19% of China's imported liquefied natural gas (LNG), making Qatar China's second-largest supplier of gas after Australia. With its dependency on Qatari LNG, China is keen to improve its balance of trade with Qatar through military technology and arms sales.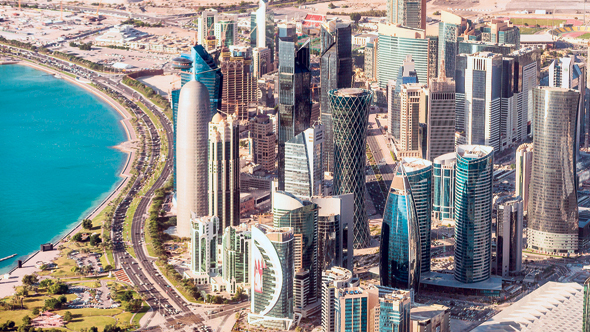 Doha. Photo: Shutterstock

On June 5, Bahrain, Egypt, Saudi Arabia and the United Arab Emirates cut ties with Qatar, reportedly due to Qatar's alleged support for terror groups in the region and its close relationship with Iran. They also launched an economic boycott, preventing Qatar Airways flights from using their airspace, closing off Qatar's land border with Saudi Arabia and blocking Qatari ships from using their ports.

Qatar refused to comply with a list of 13 demands, saying it would not agree to any measures that threatened its sovereignty or violated international law. Qatar's boycotting neighbors have since communicated they want it to accept six broad principles on combating extremism and terrorism.

On the background of this crisis in the Gulf, Qatar's Emir, Sheikh Tamim bin Hamad al-Thani, concluded that Qatar's past strategy of emphasizing soft power is insufficient to guarantee its security. As a result, Qatar has radically increased its arms purchases and became the world's third-biggest military spender following Saudi Arabia and India.

Since June, Qatar signed multi-billion arms deals with the U.S., France, the U.K., Italy, Russia, and China. As part of these agreements, Qatar will receive 96 new aircraft and missiles. However, the Qatari Armed Forces suffer from a shortage of personnel to operate the new fighter jets. It remains to be seen how the armed forces will be able to absorb these weapons into an effective force and how much they will be dependent on foreign support, including mercenaries.

Most of the arms deals aim to serve the political purpose of lobbying major governments against the four countries boycotting Qatar. That said, these military deals had not put an end to the boycott and did not serve Qatar politically.

Col. (res.) Dr. Shaul Shay is a military historian. He is the director of research at the Institute for Policy and Strategy (IPS), Interdisciplinary Center (IDC) in Herzliya, Israel.

This article was originally published on Israel Defense .