After Boycotting Riyadh Tournament, Ukrainian Chess Champion Says She's Saddened to Lose Titles
Anna Muzychuk lost two world titles last week after opting out of the world speed chess championship
Ukrainian Chess champion Anna Muzychuk lost two world titles last week after opting out of the world speed chess championship, held this year in Saudi Arabia. The 27-year-old chess player refused to defend her titles in the rapid and blitz chess tournament in Riyadh in protest of Saudi Arabia's record on women's rights.
For daily updates, subscribe to our newsletter by clicking here.
"I was sad to lose my titles, not to mention the financial loss," Ms. Muzychuk said in a phone interview Calcalist held earlier this week. The World Chess Federation (FIDE) tournament had a total prize of $2 million, and had Ms. Muzychuk been able to defend both her titles, she would have won $160,000.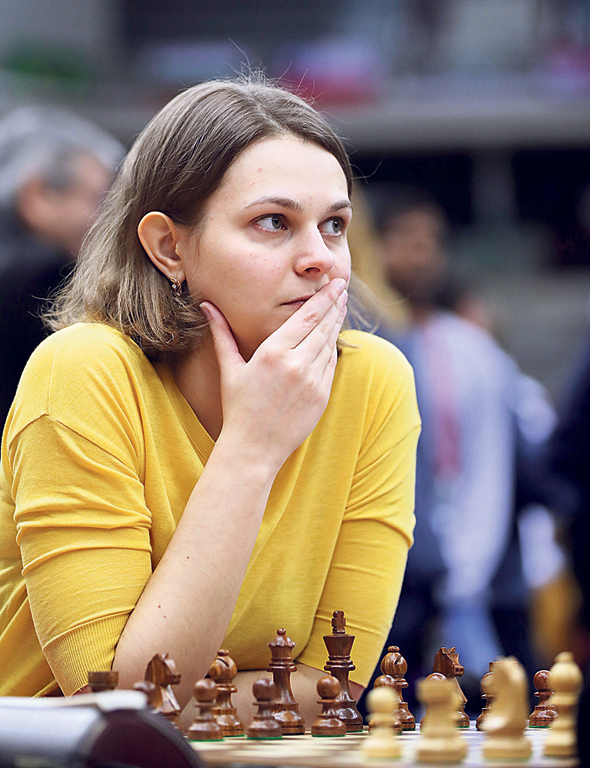 Ukrainian Chess champion Anna Muzychuk. Photo: AFP
Ms. Muzychuk said she made the decision following an unpleasant experience she had participating in a chess championship in Tehran in February. Having had to wear a hijab and long-sleeved attire, even while competing, felt physically uncomfortable, she said. A FIDE event must take place where players from all over the world feel free to compete, Ms. Muzychuk said.
On December 23, Ms. Muzychuk published a post on her Facebook page, discussing her decision not to go to Saudi Arabia. Ms. Muzychuk wrote she decided "not to play by someone's rules, not to wear abaya, not to be accompanied getting outside, and altogether not to feel myself a secondary creature." The post was shared more than 76,000 times. "I'm not political. I simply want to compete under normal conditions," Ms. Muzychuk said.
Before the tournament, Saudi Arabia agreed to relax its dress code for the duration of the competition, so that women players would not need to wear the hijab or abaya inside the venue, instead wearing dark formal trousers and high-necked white blouses.
In September, Saudi Arabia announced a decision to end its long-standing ban on women driving in 2018, a move considered as a relaxation of the strict Saudi male guardianship system, which requires women to be escorted by male relatives when outside the home. While women in Saudi Arabia must still gain their male relative's approval on decisions about travel, education, and employment, among other things, the conservative kingdom is in the process of updating some of its restricting laws.
In October, the Saudi authorities announced they would allow women to enter selected sporting arenas and watch sporting events in 2018. Additionally, Saudi Arabia intends to begin issuing tourist visas. Visas to enter the country were previously granted only to people traveling for work or religious purposes. The government will also begin granting commercial movie theater licenses in 2018, after a 35-year ban.