Intuition Robotics Launches Beta Program for Companion Robot
Update: The company's ElliQ is a social robotic companion for the elderly, designed to encourage an active and engaged lifestyle
Israel-based robotics company Intuition Robotics Ltd. is launching a multi-weekly beta program for its elderly companion robot ElliQ, the company announced Monday.
For daily updates, subscribe to our newsletter by clicking here .
As part of the program, ElliQ will be introduced into the homes of dozens of senior citizens in California and Florida. The company plans to test how ElliQ integrates into the day-to-day lives of seniors and their families, and examine how it can improve ElliQ accordingly.
"Our mission with ElliQ is to harness the proactive power of cognitive computing to empower older adults to overcome the digital divide, and pursue an active lifestyle," CEO and founder of Intuition Robotics Dor Skuler said in a statement.
The beta program will use the first units coming off the company's new manufacturing line. Intuition Robotics intends a commercial launch in 2018.
The company raised $6 million from Samsung Next, Japanese asset management company SPARX Group Co., Ltd., and Shanghai-based venture capital fund Glory Ventures, Intuition Robotics co-founder and CEO Dor Skuler said in an interview with Calcalist last week.
The funds are an expansion of a $14 million Round A investment round announced in July, led by the Toyota Research Institute with participation from Jerusalem-based crowdfunding firm OurCrowd and iRobot.
The company previously raised seed money from Maniv Mobility, an Israeli venture capital fund focused on automotive and mobility technologies, with participation from venture capital firms Bloomberg Beta and Terra Venture Partners. Intuition robotics has raised more than $20 million in total equity funding to date, Mr. Skuler said.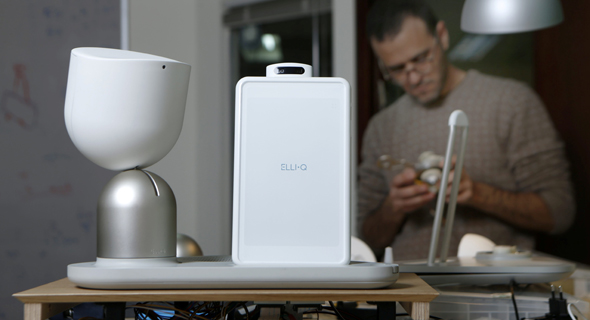 ElliQ robot by Intution Robotics. Photo: Amit Sha'al

Founded in 2016 and based in the greater Tel Aviv area, with additional offices in Silicon Valley, Intuition Robotics develops and markets the ElliQ robot, designed to serve as a social companion to elderly people. According to the company, ElliQ can encourage seniors to lead more active and engaged lives and help them communicate digitally with their families.

"With ElliQ, Intuition can bridge the cultural and technological gaps between users and their children, grandchildren and great-grandchildren," Mr. Skuler told Calcalist.

Intuition Robotics' robot is outfitted with microphones and cameras and employs machine learning and natural communication technologies, allowing it to "recognize" users and learn their daily habits and routines. Mr. Skuler said that the robot's uniqueness is the fact that it is an active communicator, which enables it to tell jokes, make proactive suggestions, and read messages from family and friend out loud.

Mr. Skuler added that the company intends to enter the U.S. market first, with an English-speaking robot.