Sensor Developer Vayyar Unveils New Smart Home Sensors
Vayyar's new 3D sensor detects falls, tracks sleeping patterns, and measures activity inside and outside the house
Israel-based 3D imaging sensor company Vayyar Imaging Ltd. launched a new smart home sensor last week at the Consumer Electronics Show in Las Vegas. The new sensor can monitor an entire apartment in all light conditions, and without the use of cameras, the company said in a statement.

For daily updates, subscribe to our newsletter by clicking here.

Vayyar's new sensor is not based on optics and does not require users to wear portable sensors on their person or perform any activity to support the sensor's function. The sensor can detect falls, track residents' sleeping patterns, measure activity inside the apartment, alert upon vital sign anomalies, detect damage to the apartment's infrastructure, and monitor the perimeter of the house to warn of intruders.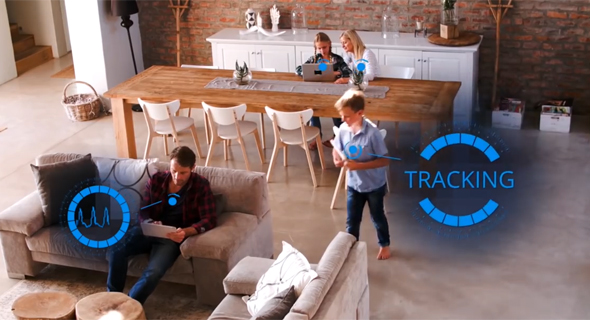 Vayyar Imaging's sensor. Photo: Vayyar Imaging Ltd.
Established in 2011 and headquartered in the Tel Aviv suburb of Yehud, Israel-based Vayyar develops and markets 3D imaging sensors that can see through human tissue and most man-made surfaces and skin using radio waves. In December, Vayyar announced a $45 million Series C investment round, which brought the company's total equity funding to $79 million.
Later that month, Vayyar announced a collaboration with SoftBank Corporation, a subsidiary of telecommunication firm SoftBank Group Corporation. The two companies said in a statement they will collaborate on developing artificial intelligence-based products for the Japanese market, with a focus on public transportation, construction, and elderly care.
"The home is a place where people need to feel safe," Raviv Melamed, co-founder, CEO and chairman of Vayyar, said in a statement. "In a world where IoT introduces an ever-growing number of sensors into people's private spaces, we are on a mission to ensure that this is done without compromising a person's right to safety and privacy."