Following Backlash, Gig Marketplace Fiverr Launches New Campaign
A previous campaign by the company was criticized for promoting unhealthy work-life balance
Following a backlash against its 2017 ad campaign, Israel-based online gig marketplace Fiverr Int. Ltd. released a new ad campaign last week, marking 2018 as "The Year of Do." Featuring freelancers working through Fiverr's marketplace it brings "an enhanced direction to the creative" of the previous campaign, "while uplevelling its unapologetic voice," according to an announcement by the company.
For daily updates, subscribe to our newsletter by clicking here.
Criticism of the previous campaign focused on an ad featured in Metro stations in New York and magazines, showing a noticeably tired woman. The caption read: "You eat coffee for lunch. You follow through on your follow through. Sleep deprivation is your drug of choice. You might be a doer."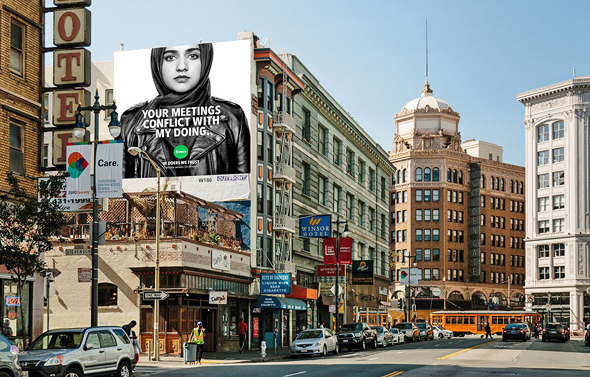 A Fiverr ad. Photo: Fiverr International Ltd.
Taking to Twitter, critics called the ad "grotesque" and "awful," noting it portrays freelancers as the "martyrs" of the gig economy, promoting an unhealthy work-life balance.
Over the last two years, the average hourly rate charged by freelancers working through online gig marketplaces dropped two dollars and currently stands at $19, according to a survey published in November by Israel-based online payments company Payoneer Inc. On average, freelancers that make a living through online marketplaces work 30-50 hours a week, according to the survey.
The new campaign by Fiverr will be featured at metropolitan rail and mass transit lines, taxi tops, and billboards in cities including San Francisco and New York.
"We just want to give a voice to this new generation of entrepreneurs who value taking action over all else," said Laurent Bouaziz, vice president of Strategy at DCX Growth Accelerator, the agency behind the campaign in an announcement by Fiverr.
"We know there is a lot of discussion about entrepreneurship and that it's often idealized. We thought it was important to show the challenges and realities of being an entrepreneur. After talking to entrepreneurs, we know what really matters is actually making it happen. And those who have the guts to invest a lot of time, effort and money to make it happen," Mr. Bouaziz added.
Tel Aviv-based Fiverr raised $110 million in total equity funding to date.