SpaceIL to Move Forward With Moon-Landing Mission Despite Cancellation of X Prize
SpaceIL made the announcement after X Prize Founder Peter Diamandis and CEO Marcus Shingles announced on Tuesday the cancellation of the $30 million competition
Israeli non-profit organization SpaceIL announced on Wednesday it will move forward with its mission to land an unmanned spacecraft on the moon during 2018, which was part of Google's 10-year space race competition Lunar X Prize.
For daily updates, subscribe to our newsletter by clicking here.
SpaceIL made the announcement after X Prize Founder Peter Diamandis and CEO Marcus Shingles announced on Tuesday the cancellation of the $30 million competition.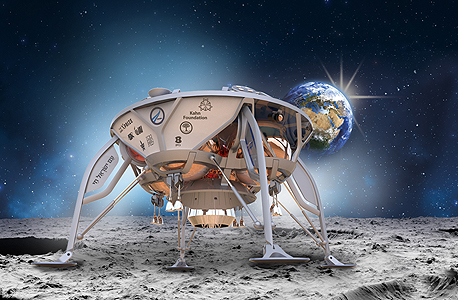 Illustration of SpaceIL's unmanned spacecraft. Image: SpaceIL
First announced in 2007, The Google Lunar X Prize was organized by the X Prize Foundation and sponsored by Google. Privately-funded teams across the world were called on to compete to be the first to land an unmanned spacecraft on the Moon. The competition's launch deadline was March 31, 2018.
Established in 2011 with the goal of landing the first Israeli spacecraft on the Moon, in October 2015, SpaceIL became the first team to announce a signed launch contract, set to take place on a SpaceX rocket. In January 2017, SpaceIL was listed as one of the five finalists of the X Prize competition.
On Tuesday, the competition ended without a winner after the X Prize Foundation concluded that none of the five finalists would make the March 31 launch deadline.
"As a result of this competition, we have sparked the conversation and changed expectations with regard to who can land on the Moon," Messrs. Diamandis and Shingles wrote in a statement. "Many now believe it's no longer the sole purview of a few government agencies, but now may be achieved by small teams of entrepreneurs, engineers, and innovators from around the world." Messrs. Diamandis and Shingles also said that teams participating in the competition have raised more than $300 million through sponsorships and investments.
In its announcement, SpaceIL said it is moving full-force ahead with the moon landing mission. SpaceIL added that their spacecraft is in final stages of development and that the organization recently successfully tested the spacecraft's ignition systems.
Other X Prize contenders announced their intention to move on with their projects, including U.S.-based Moon Express and Japanese Hakuto.