Israel's Government Sets Up Team to Save Withering Dead Sea
The Potash and salt extracted from the Dead Sea's salty water net Israel hundreds of millions of shekels a year at a dire environmental price
Israel's government is setting up an inter-ministerial team to address the Dead Sea's receding water levels, Israeli official Ram Almog said at a discussion held last Tuesday at the Israeli parliament. Mr. Almog heads the planning of international projects at Israel's Ministry of Environmental Protection.

For daily updates, subscribe to our newsletter by clicking ​here​ .

The Potash and salt extracted from the Dead Sea's salty water net Israel hundreds of millions of shekels a year at a dire environmental price: more than 6000 sinkholes have formed in the area over the last 25 years, taking down buildings, roads, and agricultural land; salt crystallization in evaporation ponds threatens to flood nearby hotels due to rising water levels.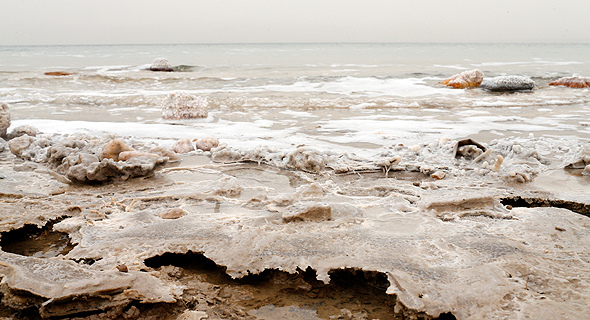 The Dead Sea. Photo: Amit Sha'al

The discussion held at the Israeli parliamentary pertained to Dead Sea mineral extraction rights, currently held by Israel Chemicals Ltd. (ICL) and to the possibility of opening the concession to a tender once the existing permit expires in 2030.

In January, a team working under Israel's Ministry of Finance recommended that the harvest of minerals from the lake Sea minerals continues regardless of the damages, citing monetary benefits.

"To me, the fate of the Dead Sea is more important than the question of royalties," Israeli lawmaker Moshe "Mickey" Rosenthal said at the meeting. The expected expiration of the mineral harvesting permits gives the Israeli government a chance to revive the decaying salt lake, a natural rarity as the world's lowest land point. Mr. Rosenthal suggested that instead of royalties, Israel's can condition further mining on investments in environmental restoration programs by potential bidders.

Representatives of the Israeli Ministry of Finance replied they were asked to consider the future of the minerals industry in the area and had no mandate to comment on possible solutions to the lake's falling water levels.