U.K., IBM, Launch Israel-Based Healthcare Technology Accelerator
Dubbed U.K. Israel Dangoor Health Initiative, the program aims to encourage digital health startups to plug their technologies into the U.K.'s National Health Service (NHS)
The U.K., in collaboration with IBM, officially launched its Israel-based healthcare technology accelerator program at an event at the residence of British ambassador to Israel, David Quarry, on Monday. 150 guests from the Israeli digital health and biotech community attended.
For daily updates, subscribe to our newsletter by clicking here.
Dubbed U.K. Israel Dangoor Health Initiative, the program aims to encourage digital health startups to plug their technologies into the U.K.'s National Health Service (NHS).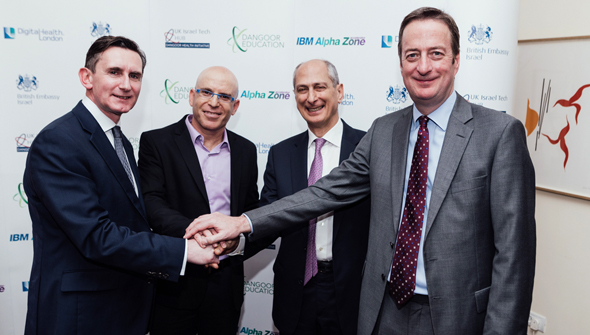 British Ambassador to Israel David Quarrey (right), David Dangoor, IBM Israel's CTO Uri Hayik and UCL Partners Managing Director Charlie Davie at the U.K. Israel Dangoor Health Initiative launch event. Photo: Ben Kelmer
The initiative was put together by the U.K. Israel Tech Hub, a team working out of the British embassy in Tel Aviv to source Israeli tech for the British industry. IBM's Israel accelerator, IBM Alpha Zone, will operate the program and NHS-supported initiative DigitalHealth.London will connect selected innovators with health organizations in the U.K.
Two to three health-related tech startups will be admitted to the program each semester, for an initial period of two years. Selected companies will receive technical support as well as mentorship and guidance. The program also includes a business trip to London to create a better understanding of the specific needs of British health services.
The program is funded by British businessman and philanthropist David Dangoor, known for previous contributions to health and education causes in the U.K. and Israel.
"Like every national institution the NHS needs to change and innovate," Mr. Quarrey was cited as saying in the event in a statement published by the British embassy.