Rafael Signs €108 Million Spike Missile Deal With the Latvian Military
A 2016, $500 million Spike missile deal with India is back on the drawing board after it was retracted, then reinstated by the Indian government in January
Israeli defense contractor Rafael Advanced Defense Systems Ltd. announced Wednesday it had signed a deal with Latvia to provide Spike anti-tank missiles to the Latvian Military. The deal is worth more than $133 million (€108 million), the company said.

For daily updates, subscribe to our newsletter by clicking here.

The missiles would be manufactured by German-based EuroSpike GmbH, a joint venture company of Rafael, Überlingen, Germany-based Diehl BGT Defence GmbH & Co. KG, and Bremen, Germany-based Rheinmetall Defence Electronics GmbH. Rafael did not provide a timeframe for the completion of the deal.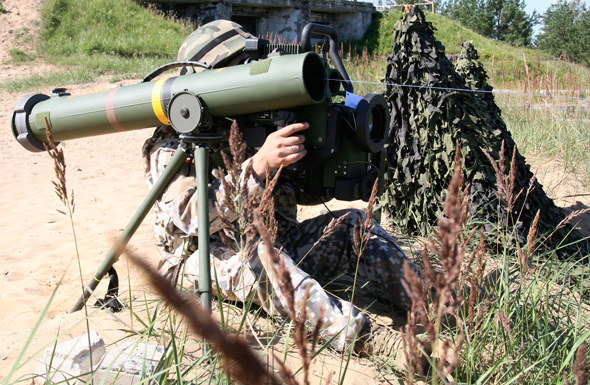 Spike missile by Rafael. Photo: Rafael PR

So far, Rafael, which is a government-owned company, has sold more than 29,000 Spike missiles to 29 countries, including Germany, Belgium, Colombia, and South Korea, according to a spokesperson for Rafael.

The would-be largest sale of Spike missile is the on-again, off-again $500 million deal to deliver 8,000 Spike missiles and 300 missile-launchers to India. The deal was first announced in 2016.

Rafael has formed a joint venture with India-based industrial firm Kalyani Group to manufacture the missiles in India, in adherence to the Indian government's 'Make in India' guidelines. The production plant, located near Hyderabad, was inaugurated in August 2017.

In January, shortly before Israeli Prime Minister Benjamin Netanyahu embarked on an official state visit to India, the Indian Defense Ministry announced it was retracting the deal. Rafael confirmed the deal was cancelled in early January, saying the termination took place before a contract was signed and despite the fact that the company met all of the client's prerequisites.

On January 17, while in India, Mr. Netanyahu announced that the deal was "back on the table" during a media briefing. A spokesman for Rafael told Calcalist on Wednesday that the India deal is still being negotiated.

Israeli weapon manufacturers were responsible for 2.1% of the global weapons sales in 2016, valued at $7.9 billion, according to an annual report on the global weapons industry published in December 2017 by the Stockholm International Peace Research Institute (SIPRI). The report listed Israeli defense contractors Elbit Systems Ltd., Israel Aerospace Industries Ltd. (IAI), and Rafael among the world's 50 largest manufacturers of weapon systems. Rafael was ranked 43rd with sales estimated at $2.1 billion that year.