Brazilian Paper Company Klabin Invests in Israeli Cleantech Startup Melodea
Melodea has developed a technology for turning paper waste into industrial raw material
Israel-based Melodea Ltd., a company that developed a technology for turning paper waste into industrial raw material, has partnered with Brazilian paper company Klabin SA to complete a $5 million financing round, the company announced last week. Klabin invested $2.5 million of the total acquiring a 12.5% stake in Melodea, a company spokeswoman told Calcalist Wednesday.

For daily updates, subscribe to our newsletter by clicking here.

Sao Paulo-headquartered Klabin is a producer, exporter and recycler of paper, and a manufacturer of products such as packaging paper, boards, industrial sacks and logs. The company reported net revenues of $2.4 Billion in 2016.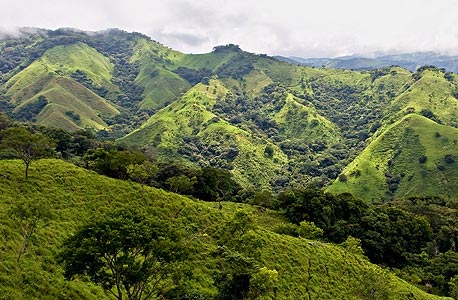 Rainforest (illustration). Photo: Shutterstock

Established in 2010 and numbering around 10 employees, Melodea has developed a method for extracting cellulose nanocrystals (CNCs), which are tiny rod-like nanostructures, from the naturally occurring polymer cellulose. An important component of living organisms like plants and algae, cellulose can be found in industrial byproducts like wood mulch and paper waste.

The various properties of CNCs, as well as the fact that they are biodegradable and easily renewable, makes them attractive for industrial applications, and they are increasingly used for industries like material sciences, electronics, and engineering as an alternative to fossil fuel-based products.

As part of the partnership, Melodea will use Klabin's byproducts as raw material.

"This is a major step towards commercialization of Melodea's patented CNC technology and products," said Melodea CEO Shaul Lapidot in a statement. "We have remarkable synergy with Klabin's commitment to innovation and sustainable development and look forward to leveraging their leadership reputation and marketplace resources to advance a next generation of safe and renewable industrial CNC products."

"We believe that Melodea's CNC technology has tremendous potential for adoption within a multi-segment marketplace," said Francisco Razzolini, Klabin's executive director for technology and pulp business, in a statement.

Melodea has previously received grants from the Israel-United States Binational Industrial Research and Development Foundation and from the Horizon 2020 program, the European Commission's largest research and innovation program. In 2012, the company partnered with Stockholm-headquartered forestry company Holmen AB, which has also invested in the company's seed round.