Wix Projects 40% Growth in Revenue in 2018
The Israel-based website maker saw its quarterly revenue increase by 41% to $118.5 million
Wix.com Ltd., which helps small businesses create and maintain websites, released strong financial results, projecting higher revenues for 2018 than what analysts were forecasting. The Tel Aviv-based tech startup saw its stock price increase 12% following the announcement.

For daily updates, subscribe to our newsletter by clicking here.

For 2018, Wix projects revenue of $591-$595 million, a 40% increase from 2017 revenue of $557 million. Free cash flow is expected to reach $98-$100 million, also 40 percent higher.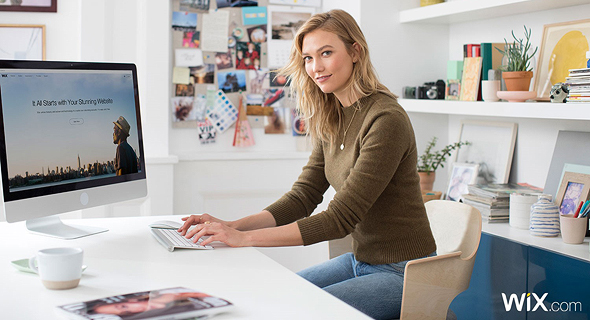 Fashion model Karlie Kloss promoting Wix.com. Photo: PR

Setting up a basic website with Wix is free but features such as shopping carts, and web traffic reports require a paid subscription. The company said it added 170,000 paid users in 2017, 31% more than the number of people that had signed up in 2016. 3.2 million of the company's 119 million registered users pay for premium services.

The spike in paid users followed the company's launch of new products, including Wix ADI, a web design interface to help inexperienced users released at the end of 2016, the company said.

"Most notably, Wix ADI improved considerably throughout the year, driving conversion improvements and increases in collections per subscription," Wix CEO Avishai Abrahami said in a statement.

Wix reported quarterly revenue of $118.5 million, up 41% from 2016. Annual revenue in 2017 reached $425.6 million, up 47% from the previous year.