OrCam's Investment Notice Omitted Investor's Interests
On Tuesday, the visual aid company set up by Mobileye's founders raised funding at a $1 billion valuation
On Tuesday, visual aid company OrCam Technologies Ltd. announced it has raised $30.4 million from Israel-based pension fund Meitav Dash Investments Ltd., Israel-based Clal Insurance, and other investors, according to a company valuation of $1 billion. But Meitav Dash's participation in the round may have involved a conflict of interest the fund failed to disclose appropriately.

For daily updates, subscribe to our newsletter by clicking here.

Jerusalem-based OrCam, which develops and manufactures visual aid devices for the blind and visually impaired, was founded in 2010 by Mobileye co-founders Ziv Aviram and Amnon Shashua. One of OrCam's major early investors is the BRM group, a private investment fund. Meitav Dash, which manages over $32 billion, is owned by founder Zvi Stepak and BRM.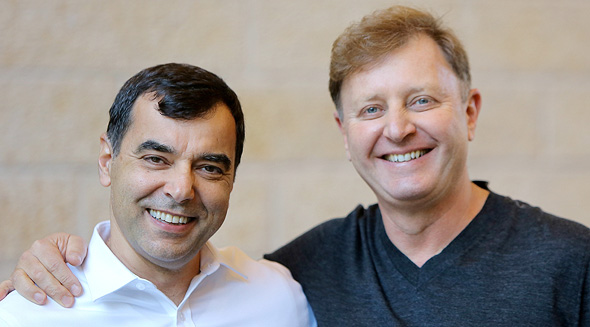 Left to right: Amnon Shashua and Ziv Aviram. Photo: PR

Meitav Dash does not usually invest in startups, and as such did not benefit from recent large deals involving Israel-linked companies like the $15.3 billion sale of Mobileye to Intel, the $11.9 billion sale of Kite Pharma to Gilead Sciences Inc., or the $1.1 billion acquisition of biotech company NeuroDerm Ltd. by Mitsubishi Tanabe Pharma—unlike Israel-based insurance company Menora Mivtachim Group and Psagot Investment House, who had an early stake in those companies.

Meitav Dash invested $5 million in OrCam—17% of the round, and all from member pension funds, one person familiar with the matter who spoke on condition of anonymity told Calcalist.

While OrCam's announcement said most of the company's previous investors participated in the round, BRM did not participate in this round or in OrCam's previous round, said the person familiar with the matter. The person added that before the current round, BRM held a 5.4% stake in OrCam, acquired with a $4 million investment in 2010.

In a statement to Calcalist, Meitav Dash said the investment was approved by an internal review committee at the company. BRM does not have a representative on OrCam's board of directors, the fund clarified, and is not involved in the company's daily operations.

Barak Benski, Meitav Dash's pension funds portfolio manager, told Calcalist in an emailed statement Tuesday that BRM did not "force" the investment, but rather the fund was the one who pushed for it. "As part of our intention to invest in leading local technology companies, we approached OrCam out of our own volition and asked to participate in the round. We believe it's a great investment for our members, both because of the technology and because of our belief in the entrepreneurs."

In the industry, opinions about the investment and the valuation given to OrCam are divided.

One manager at a rival pension fund, who spoke to Calcalist on condition of anonymity, said that with companies such as OrCam one usually needs to push to participate in investment rounds, and he would've gladly participated had he been approached. Another stated that if Meitav Dash was the only institutional investor participating the investment might have seemed problematic, but since Clal Insurance participated under the same terms the valuation seemed "objective," although the person added that since the money came from member pensions a fuller disclosure of the details was in order.

Other industry personnel, speaking on conditions of anonymity, said they have been approached regarding participation in the round according to a lower company valuation, but declined after considering the lower valuation as overblown.