Netanyahu Turmoil Grows As New Allegations Surface
On Tuesday, the Israeli police said a former confidant turned state witness and is willing to testify against Israeli Prime Minister Benjamin Netanyahu
In an offshoot of the proliferating investigations against Israeli Prime Minister Benjamin Netanyahu, Israeli police announced Tuesday it is investigating whether one of Mr. Netanyahu aides has attempted to bribe an Israeli judge into dropping a case against wife Sara Netanyahu in exchange for an appointment as the country's attorney general.

For daily updates, subscribe to our newsletter by clicking here.

In a press statement, Mr. Netanyahu called the allegations "a scandal," "preposterous and false", and a part of "years-long prosecution campaign" against him and his family.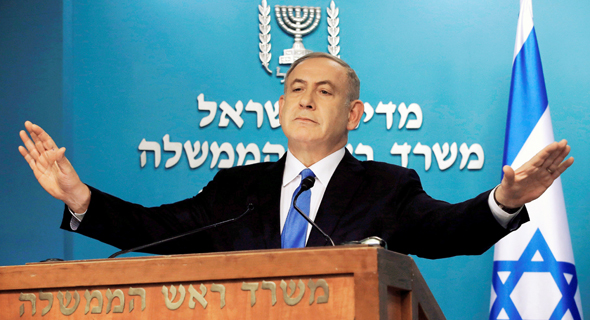 Israeli Prime Minister Benjamin Netanyahu. Photo: Reuters

The claim came to light after Nir Hefetz, the Netanyahu family's media advisor and a former journalist, was arrested on Monday together with several other high profile people as part of the investigation dubbed "Case 4,000." Israeli police have been conducting inquiries for some time on suspicion that Shaul Elovitch, the chairman of Israel's biggest telecommunications provider Bezeq, received regulatory assistance from Mr. Netanyahu and aides in exchange for positive coverage of the Israeli leader and his wife on popular Israeli news site Walla, which is owned by Bezeq.

Mr. Elovitch, who was arrested along with wife and son, might also be facing charges from another direction, after an investigation by the Israel Securities Authority uncovered various securities violations performed during Bezeq's 2015 acquisition of Israeli satellite television broadcaster "Yes" from Eurocom, another company partly owned by Mr. Elovitch.

Mr. Hefetz is now suspected of approaching Israel's then commissioner for prosecutorial oversight, Judge Hila Gerstel, with an offer for the attorney general position if she would drop an ongoing corruption case against Ms. Netanyahu. At the time, Ms. Gerstel was a nominee, alongside current attorney general Avichai Mandelblit, but received two votes out of five. Mr. Hefetz denies the allegations.

Another person arrested Monday was Shlomo Filber, the suspended director general of the Israeli communication ministry, who has long been considered a close confidant of Mr. Netanyahu. Late Tuesday, he agreed to turn state witness in the investigation in exchange for staying out of prison.

Last week, the police recommended that Mr. Netanyahu be indicted on charges of bribery, fraud and breach of trust in two additional cases, called "Case 1,000" and "Case 2,000," which looked into allegations Mr. Netanyahu handed out favors to two business executives and a newspaper publisher. The final decision on whether to indict the prime minister is the attorney general's.

Case 2,000, also known as the Netanyahu-Mozes case, alleges that Mr. Netanyahu negotiated a deal to weaken a rival newspaper with Arnon Mozes, the publisher of Israeli daily newspaper Yedioth Ahronoth, in exchange for favorable coverage in the newspaper and on Yedioth's online news website Ynet. Calcalist is part of the Yedioth Ahronoth media group.

While the opposition has been outspoken against Mr. Netanyahu, it seems that the coalition is staying behind the prime minister at this moment. Lampoonish lawmaker Oren Hazan, also of the Likud Party, was the only one of the coalition to say Mr. Netanyahu should take a leave of absence, only to be criticized by coalition Chairman David Amsalem.