Rakuten's Viber Partners with Social Media Marketing App Sprinklr
The integration will enable brands to reach Viber's user base of almost 1 billion
Viber, the Israel-linked instant messaging and voice over IP app, has partnered with social media marketing app Sprinklr Inc., the companies announced Thursday. The integration will enable brands using Sprinklr's services to engage Viber's user base of almost 1 billion.

For daily updates, subscribe to our newsletter by clicking here.

Founded in 2010 in Tel Aviv, Viber's app enables users to send text messages, stickers and GIFs, and also make audio and video calls and send video and audio messages. The services are free within the app's network and low-cost for calls made to outside numbers. Viber is available in 193 countries, according to the company's website, and is especially popular in Russia and Arab-speaking countries.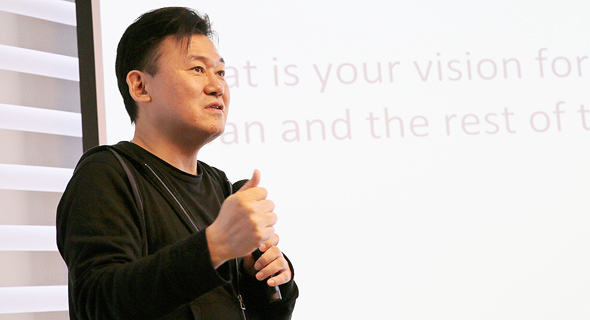 Rakuten founder, chairman and CEO Hiroshi Mikitani. Photo: PR
In 2014 Rakuten Inc., Japan's number one e-commerce company, paid $900 million for Viber. Last year Rakuten's CEO Hiroshi Mikitani launched a rebranding strategy for Rakuten's 120-plus services, intending to create a unified brand. Viber is essential to that effort, as Mr. Mikitan told Calcalist in an interview in November.
"First, we are going to attach Viber to the Rakuten membership," Mr. Mikitani said at the time. The final aim is to supply Viber users with Rakuten's plethora of services, like Tencent's messaging service WeChat.
The new partnership between Viber and Sprinklr will help brands adapt to the demands of the real-time messaging so many people prefer today, the two companies said in a statement.
Sprinklr customers can now read their Viber messages within Sprinklr, receive private Viber messages that Sprinklr will automatically assign to the correct company agent, and also post public messages, images, videos and URLs on Viber through their usual platform, the companies explained.
"Brands are constantly seeking innovative and results-driven ways to capture the eyes and ears of consumers, and messaging apps achieve so many of these objectives," said Cristina Constandache, vice president of global partnerships at Viber, in a statement. "Viber's integration with Sprinklr creates a joint solution that will be crucial to consumer engagement."
"Viber is increasingly becoming a natural place for people around the world to communicate with brands, whether they're asking a customer care question, commenting on a product or shopping straight from the app," said Elizabeth Closmore, global head of product evangelism at Sprinklr, in a statement.
Established in 2009 and headquartered in New York, Sprinklr offers customers a management system with services such as marketing, advertising, sales, research and commerce, on multiple social media channels including Facebook, Twitter and LinkedIn. In 2016 the company raised $105 million at a $1.8 billion valuation in a round led by Singapore's governmental holding company Temasek Holdings.