Probe Gives Rise to Power Struggle at Israel's Biggest Telecom Provider
Embroiled in debt and implicated by the country's Securities Authority, Israel's Elovitch family tries to maintain hold on Bezeq to enable the sale of the company
The three board members that represent the controlling stakeholder of Israel's biggest telecommunication provider Bezeq are conditioning their resignation from the company's board on choosing their own replacement. The three are Israeli businessman Shaul Elovitch, his son Or and daughter in law Orna. All three announced their intention to resign from the company's board on Sunday.

For daily updates, subscribe to our newsletter by clicking here.

Mr. Elovitch and his son Or have been arrested last Sunday as part of "Case 4,000," an investigation into whether Israeli Prime Minister Benjamin Netanyahu assisted the company with regulatory matters in exchange for positive coverage of Mr. Netanyahu and wife Sara on Walla, a popular Israeli news site owned by Bezeq.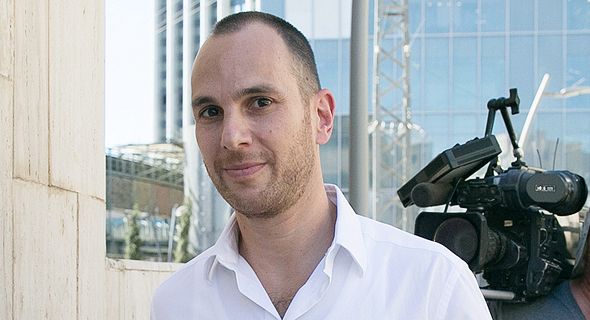 Or Elovitch. Photo: Orel Cohen

Private holding company Eurocom Group, owned jointly by Mr. Elovitch and his brother, owns a 61% stake in Israel-based communication company Internet Gold Golden Lines Ltd., which owns a 65% stake in B Communications (BCOM) Ltd. BCOM is a holding company with a single asset, a 26% stake in Bezeq.

The family was expected to announce their resignation from the board at an urgent board meeting convened Sunday by acting chairman David Granot, who assumed the position in July 2017 after Mr. Elovitch stepped down temporarily following the launch of an Israel Securities Authority investigation that spun into Case 4,000. The meeting was also called to discuss the replacement of Bezeq CEO Stella Handler, who was arrested last week as well, but no decisions have been announced yet.

Mr. Granot is now facing a complicated situation. Since Bezeq is considered a landline monopoly in Israel, the law states the company's controlling stakeholder can appoint three to five board members of their own choice.

However, some of Bezeq's shareholders, including activist hedge fund Elliott Associ­ates L.P., which holds a 4.8% stake in the company, and a conglomeration of institutional shareholders that together hold over 5%, have called for the appointment of independent, outside directors. The final regulator in this case is the Israeli Ministry of Communication, who has been approached by the aforementioned shareholders but is currently staying silent on the subject.

Mr. Elovitch and Eurocom are carrying a debt of $430 million, and have thus been attempting to find a buyer for the group. An agreement has been reached for Israel-born real estate developer and businessman Naty Saidoff to buy Eurocom, but the deal is only attractive if Eurocom retains its current ownership of Bezeq, and its own directors on the board.

Eurocom's biggest creditors, Israel's three largest banks, Bank Hapoalim, Bank Leumi and Israel Discount Bank Ltd., are pushing for the deal. One person familiar with the matter who spoke on condition of anonymity told Calcalist that some of Eurocom's creditors made it known that if Mr. Saidoff backs off, the alternative is dissolution.

Some of Bezeq's institutional shareholders also hold stock in BCOM, and therefore stand to gain more from the sale.

The three candidates Mr. Elovitch wishes to appoint, according to a Sunday stock market filing, are Tamir Cohen, Shlomo Rodev and Doron Turgeman. Mr. Cohen is a representative of the Saidoff Group, while Mr. Rodev has previously served on Bezeq's board as chairman. Mr. Turgeman is the current CEO of both Internet Gold and BCOM.