Coworking Real Estate Company Be All to Open New 26,900 Square-Feet Space in Tel Aviv
Be All is the largest coworking real estate company in Israel, in term of space offered. On Monday, Israeli shared office space company Mixer announced a $40 million funding round
Israeli shared office space real estate company Be All is set to open a new, 26,900 square-feet coworking space in Tel Aviv in May, Be All told Calcalist earlier this week.
For daily updates, subscribe to our newsletter by clicking here.
Be All has rented the first two floors of the Shekel Towers in Tel Aviv, a combined space of 26,900 square feet (2,500 square meters), as well as a 7,500 square-feet (700 square meters) balcony, designed to host events. Be All will pay $661,000 (NIS 2.3 million) in annual rent, with an initial investment estimated at $3.4 million (NIS 12 million).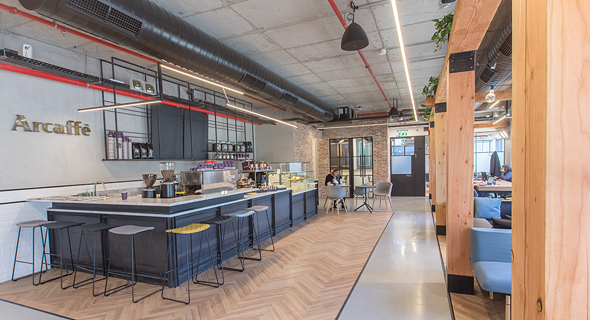 Be All shared office space. Photo: Aviv Abargel
This is the third coworking location for Be All, who recently opened the country's largest coworking space, also in Tel Aviv, sprawling across 150,700 square-feet (14,000 square meters). Be All is the largest coworking real estate company in Israel, in term of space offered.
Market leader WeWork, founded by Israeli-raised entrepreneur Adam Neumann and headquartered in New York, operates nine locations in Israel with a combined space of 161,400 square feet (15,000 square meters).
On Monday, Calcalist reported that Israeli shared office space company Mixer raised $40 million in a round led by Puma Brandenburg, the investment firm headed by British businessman Howard Shore. Founded in 2016, Mixer, whose corporate name is TLV Lounge Ltd., operates an upmarket coworking location in Tel Aviv and is looking to use the funding to expand in Israel and internationally, with two locations being planned in New York and one in Berlin.
The investment in Mixer comes as a number of shared office space companies linked to Israel are expanding internationally.
In December, Israel-based Ayeka announced it would spend $20 million to open five new coworking locations in New York, London, Singapore, Tel Aviv and Jerusalem. Founded in 2016, Ayeka opened its first location earlier this year, in Tel Aviv's southern neighborhood of Florentin. The 21,500-square-foot facility (2,000 square meters) is marketed as a "premium" coworking space, featuring private offices, conference rooms, a pool and a fitness gym.
Also in December, Israel-based coworking company Mindspace Ltd. announced plans to open new locations in San Francisco, and Washington, D.C. in the next six months. Mindspace currently operates 16 shared office locations in Israel and European cities like London, Warsaw, and Berlin.
The Teddy Sagi Group has recently launched its shared office venture Labs in Israel, located in the top four floors of the Azrieli Sarona tower in central Tel Aviv. The group intends to open a second location in the HTowers project in Tel Aviv, a short walking distance from the Azrieli Sarona tower. This space will also be located on the upper floors, spanning around 48,500 square feet (4,500 square meters).
Labs launched in 2017 in London, with four locations in Camden Market, High Holborn and Southampton Place. The group intends to open additional locations in Camden Market within the next two years, with plans to accommodate as much as 3,000 members, and also additional locations around Europe.