Smith Family Bottled Water Company Just Goods Reboots
The company owned by Hollywood star Will Smith and his 19-year-old son Jaden Smith let go most of its 48 employees, remaining with only 16 employees, 11 of them working the manufacturing line
Just Goods, Inc., a bottled water company owned by Hollywood star Will Smith and his 19-year-old son Jaden Smith, is stepping onto a new business path. The company let go most of its 48 employees, remaining with only 16 employees, 11 of them working the manufacturing line, new CEO Ira Laufer, said in February interview with Calcalist. In March, Just Goods launched a series of infused water beverages.

For daily updates, subscribe to our newsletter by clicking here.

Founded in 2015 and headquartered in Glens Falls, New York, Just Goods' flagship product is JUST Water, natural spring water sold in reduced-emissions bottles made from renewable plant resources. True to the wellness appeal of the brand, the new water products are available in three unsweetened, certified organic flavors of apple cinnamon, tangerine, and lemon.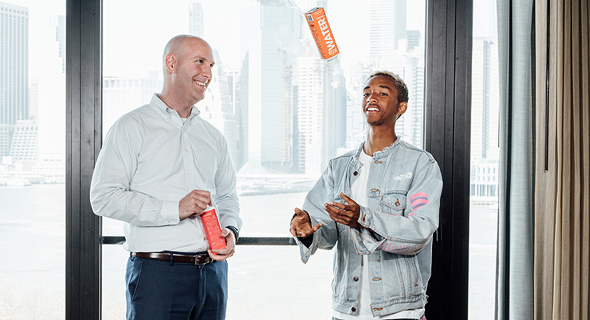 Just CEO Ira Laufer with founder Jaden Smith. Photo: Cesar Soto

Mr. Laufer, an Israeli born businessman, took on the position in May 2017, succeeding Grace Jeon, who served as Just Goods CEO since the company's launch and is a former executive of premium bottled water company Fiji Water. "The company is not profitable yet, but it no longer absorbs the losses it once had, and now we are relaunching," he said. Mr. Laufer is scheduled to speak at Calcalist's Mind the Tech conference in New York next week.

Mr. Laufer was first approached about advising Just Goods in December of 2016. At the time, Mr. Laufer had spent nearly two decades living in the U.S. and has built a reputation advising businesses in the health food sector. A friend who was an investor in Just Goods called, saying the company was in trouble and asking me to come and advise them, Mr. Laufer told Calcalist.

After submitting a carefully researched evaluation of the company to its owners, he was offered the position of CEO.

"It wasn't an easy decision, and I had a few conditions," Mr. Laufer said. "I wanted to know that no one in the company was protected and that there was money to make the necessary changes," he said.

Another condition was a personal meeting with Will Smith. "I wanted to hear from him why he was spending so much money on this company. I didn't want to come work for a company whose sole purpose is to be sold to Pepsi."

When Mr. Laufer joined Just Goods, the company was hemorrhaging money. "The Smiths were not doing it for the money," Mr. Laufer said. "They were doing it to make the world a better place." As it turned out, Just Goods' biggest challenge was shaking off the "stardust."

According to Mr. Laufer, when the Smith Family launched the company, they appointed heavyweight executives, recruited a large team, and assumed success is imminent. "But in this field, there is no such thing as an overnight success, not even for Will Smith," Mr. Laufer said. "The board of directors was made up of celebrities, people from the entertainment industry, people with a lot of good intentions but not enough experience," Mr. Laufer said.

Joining Just Goods, Mr. Laufer discovered an inflated company spending a lot of money on large salaries and bonuses and on distribution, with a product that wasn't really selling. "At 99 cents, the water was priced too low, which lowered the value of the product," Mr. Laufer said.

"It is a startup that produces something very unique," Mr. Laufer said. "I felt it was an opportunity to enter something that is much bigger than simply selling bottled water. Just stands for Justice. We can do a lot with the brand," he said.