69% of Israelis Drive to Work and Only 21% Use Public Transport, According to New Report
Israel's Central Bank published a segment of its 2017 economic report, showing Israelis are largely displeased with the state of public transportation in the country
In Israel, 69% of employed people drive to work, and only 21% take public transportation, according to a section of the annual report for 2017, published by Israel's Central Bank on Sunday.
For daily updates, subscribe to our newsletter by clicking here.
The report found that those in Israel who depend on public transit often belong to a lower socio-economic class, and that people earning higher salaries use public transport less frequently, reinforcing the conclusion that most Israelis who regularly use public transport do so due to lack of choice.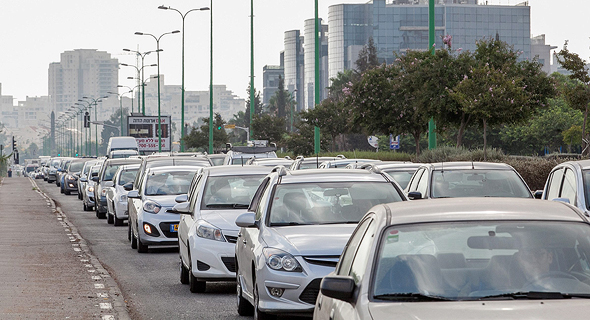 Traffic in Israel. Photo: Orel Cohen
Corroborating this conclusion is the finding that residents of Israel's three largest cities, Jerusalem, Tel Aviv, and Haifa, are less satisfied with the level of local public transport than the residents of major European cities.
Furthermore, the average length of time people spend commuting to work is increasing. According to Israel's Central Bureau of Statistics, the average commute time for people who work remotely has gone up from 30 minutes in 2005 to 39 minutes in 2016. The average commute time for people who work locally has gone up from 14 minutes to 16 minutes during that time.
The report also stated that increased funding is necessary to improve the level and service quality of public transportation in Israel. According to the report, in recent years Israel has invested 1% of its GDP in transportation, and a third of that in public transportation. Improving public transit will allow the quality of life in Israel to catch-up to that of other developed countries.
Last week, the OECD published its annual economic survey of Israel. According to the survey, while the Israeli economy has been showing growth for 15 consecutive years, the country is still affected by economic inequality. The OECD listed high housing prices, low social mobility, and a large infrastructure deficiency, particularly in public transportation, as factors hindering the quality of life and social mobility in the country.