Elon Musk Reveals Jerusalem Visit in Flaming Instagram Post
Mr. Musk previously visited Israel in early 2016, when he visited the Jerusalem offices of automotive chipmaker Mobileye
Billionaire and tech business magnate Elon Musk, the founder and CEO of electrical and autonomic car company Tesla Inc. and aerospace company SpaceX, is visiting Jerusalem. The visit was revealed in an Instagram post Mr. Musk uploaded to his account Monday night, captioned "learning how to pour flaming absinthe over a tower of glasses in a Jerusalem speakeasy. Everything's better with fire…"

For daily updates, subscribe to our newsletter by clicking here.

Filmed in a Jerusalem cocktail bar named Gatsby, the video shows Mr. Musk pouring flaming blue liquid from glass to glass. The venue declined to comment.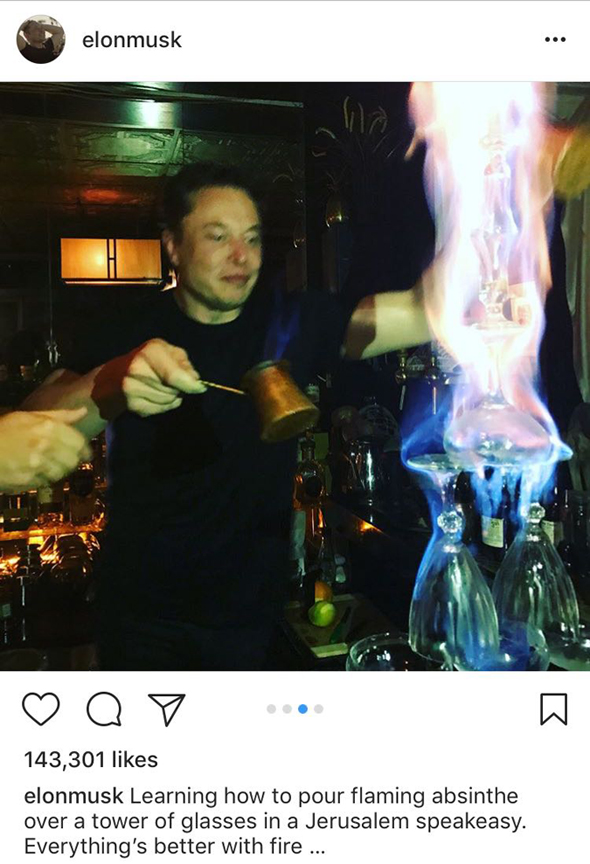 Elon Musk at Gatsby. Photo: Instagram

Mr. Musk later uploaded a photo of Jerusalem-based Irish pub Oconnell, and a selfie with Masada, an ancient Hebrew fortress located near the Dead Sea, in the background. The purpose of the visit was not discussed in the posts.

Mr. Musk previously visited Israel in early 2016, when he visited the Jerusalem offices of automotive chipmaker Mobileye N.V., which at the time manufactured chips for Tesla's vehicles. During his stay he also met with several Israeli automotive driving tech startups, according to two people familiar with the matter who spoke on condition of anonymity.

In May 2016 Tesla and Mobileye ended their partnership following an autonomous car accident that killed a Tesla test-driver, leading both companies to lay the blame at each other's feet. The split seems to weigh on Tesla more than on Mobileye; the latter was acquired for $15.3 billion by Intel in 2017, catapulting Intel to the sixth place on a list of industry leaders in automated vehicles, recently published by Chicago-headquartered market research and consulting company Navigant Research. Previously ranked at the top, Tesla fell this year to the last place out of 19, largely due to its separation from Mobileye, according to Navigant.