InSight Biopharmaceuticals Buys Cancer Treatment Company CureTech
As part of the deal, InSight commits to help develop CureTech's lead product, which is currently in advanced clinical trials
Pharmaceutical company InSight Biopharmaceuticals Ltd. has signed a deal to acquire cancer treatment company CureTech Ltd. The announcement was made Wednesday by Clal Biotechnology Industries, which holds 53% of CureTech's shares.

For daily updates, subscribe to our newsletter by clicking here.

As part of the deal, InSight has committed to assisting CureTech develop its lead product, pidilizumab, which is currently in advanced clinical trials. The development costs, together with payments to CureTech's shareholders and to third parties, are estimated at $50 million, according to the announcement. The deal also includes payments to current shareholders of up to $550 million based on potential milestones, as well as sales-based payments.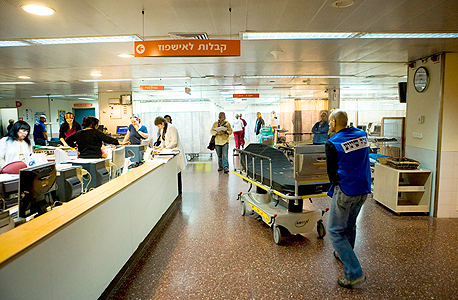 Hospital (Illustrative). Photo: Tommy Harpaz
Established in 2011 and based in central Israel, CureTech develops antibodies and vaccines that alter immune response, enabling the immune system to fight cancer more effectively. Pidilizumab has been shown to inhibit cancer growth in second-phase clinical trials for two types of lymphoma, and for diffuse intrinsic pontine glioma (DIPG), an aggressive type of brain tumor.
Between 2006 and 2011, Teva Pharmaceutical Industries Ltd. sunk millions into pidilizumab as part of a collaboration with CureTech, but gave up on the product. CureTech then licensed it to San Francisco-based Medivation Inc. for $5 million, $85 million in potential milestones, and $245 million in potential sales-based payments. In late 2017, CureTech bought the drug back for $20 million.
InSight was established in 1995 in Rehovot, a city in central Israel that is also home to the Weizmann Institute of Science. The company specializes in complex generic drugs and in biosimilars, which are generic, almost identical versions of drugs manufactured from biological sources such as blood or tissue. Following a financial collapse, the company's intellectual property and assets were sold in 2017 to Estonian company PharmaEstica Manufacturing and its Israeli partner.
InSight is conducting the acquisition through InSight Innovation Ltd., a subsidiary it established specifically for the deal, according to a spokesman for Clal Biotechnology Industries.