WeWork Scuttles Plans to Raise Funds in Israel
The onerous financial review required by Israeli authorities and investors led the coworking space provider to give up on the country's capital markets
After six months of talks with Israeli institutional investors, coworking space provider WeWork has scrapped plans to raise money on the Israeli bond market and from private lenders in Israel, people familiar with the matter told Calcalist on condition of anonymity.

For daily updates, subscribe to our newsletter by clicking here.

WeWork changed course because of Israel's strict financial disclosure rules and the requirement for the company to put up collateral before issuing bonds, according to those familiar with the talks. The New-York based real estate company, which is led by Israeli-born Adam Neumann, also balked at meeting other conditions like maintaining certain equity and debt thresholds.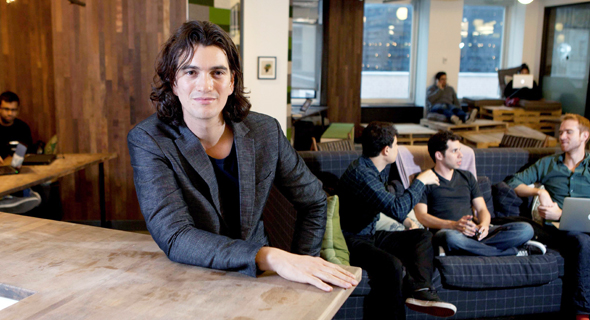 WeWork CEO Adam Neumann. Photo: Dan Kenan

Since November, WeWork has held several meetings in Israel and in New York with institutional investors including Phoenix Insurance Company Ltd., Clal Insurance Enterprises Holdings Ltd., Meitav Dash Investments Ltd., and Menora Mivtachim Insurance Ltd. During the talks, the real estate company garnered a disappointing A- bond rating, those familiar with the matter said.

At first, WeWork came to Israel hoping to take advantage of the country's low-interest rates and issue private bonds for half a billion to a billion dollars. When the conditions proved onerous for the company, WeWork shifted its attention toward the possibility of taking out loans from Israel's institutional investors, which had signaled they were receptive to making a deal. Ultimately, WeWork decided to scuttle its Israeli plans rather than be subjected to the financial review required, those familiar with the matter said.

WeWork differs from several other real estate companies that have obtained financing in Israel in that it sees itself as a tech company.

Japan's Softbank invested $4.4 billion inWeWork in 2017 according to a 20 billion valuation, allowing WeWork to expand and foray into private education, wave pools, and startup incubation, among other areas.

WeWork has more 210,000 members in more than 240 locations in 72 cities around the world. The company was founded in 2010 in New York by Mr. Neumann and Miguel McKelvey, and employs more than 5,000 people.