Interview
Mellanox CEO Rebuts Criticism by Activist Investor Starboard
Last week, Mellanox published its results for the first quarter of 2018, reporting $251 million in quarterly revenue, a 33% rise compared to the same quarter last year
When competing against industry leaders like Intel and Broadcom Corp., one has to run much faster, says Eyal Waldman, CEO of Nasdaq-listed chipmaker Mellanox Technologies Ltd. In an interview with Calcalist, Mr. Waldman rebutted some of the criticism leveled at Mellanox and its management by activist investor Starboard Value LP, a New York-headquartered hedge fund.

For daily updates, subscribe to our newsletter by clicking here.

Founded in 1999 and headquartered in Yokne'am Illit, a town in northern Israel, Mellanox develops and manufactures chips for communication networks in data centers. The company employs 2,700 people, 1,800 of which are in Israel.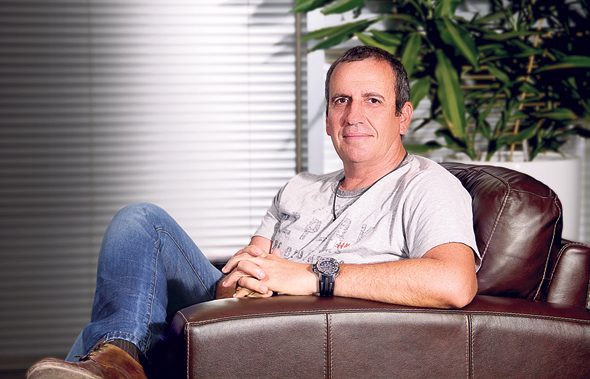 Mellanox CEO Eyal Waldman. Photo: Omer Moshe

"Starboard is claiming that actions we took in 2016 and 2017 resulted in higher than needed expenditure," Mr. Waldman said. While admitting that the actions taken by the company in these years affected Mellanox's bottom line in some quarters, he added he believes the chipmaker is "healthy now" and that "Starboard also realizes that."

In November, Starboard acquired a 10.6% stake in Mellanox becoming its largest shareholder. Soon after, Starboard began criticizing the performance of Mellanox's management and board and pushing for extensive reforms. In response, Mellanox claimed Starboard's behavior poses a risk to the company, while at the same time taking some steps to reduce spending.

The differences with Starboard will be addressed in an extraordinary company shareholders meeting scheduled for May.

Last week, Mellanox published its results for the first quarter of 2018, reporting $251 million in quarterly revenue, a 33% rise compared to the same quarter last year, and a GAAP net income of $37.8 million, compared to a net loss of $12.2 million in the same period in 2017.

While saying the company has taken some steps to reduce spending and increase profits, Mr. Waldman said that to maintain a competitive edge Mellanox has to continue to make large investments.

In 2016 it bought Israel-based chip company EZchip Technologies Ltd. for $810 million. In 2011, Mellanox acquired Israel-based data center switchboard maker Voltaire Ltd. for approximately $218 million.

Past acquisitions, Mr. Waldman said, that the acquisitions have proved beneficial to the company's business. "We are very comfortable with that we are doing for the company, and I believe that, eventually, Starboard will realize we are doing the right thing," he said. "

Dealing with investors is not easy, and boards tend to be eager to replace management, Mr. Waldman added. "Whoever invests in a company has the right to replace the management but what pains me in this sort of activism is its short-sightedness," he added. "Our board of directors is very critical, observant and demanding, but Mellanox has good management, and the worse mistake investors can make is replacing good management," Mr. Waldman said.

Such a move, he said, "could ruin a company."