Israel Allocates $5.6 Million to Set Up Tech Workspaces in Local Arab Towns
The funds will be used to establish tech workspaces and improve roads in Arab towns. Israel's Arab population has traditionally been excluded from the country's booming tech industry
The Israeli parliamentary committee for Arab affairs announced on Monday a decision to allocate $5.6 million (NIS 20 million) to a new program designed to increase the rate of Arabs with Israeli citizenship with jobs in the local tech sector.
For daily updates, subscribe to our newsletter by clicking here.
The funds were allocated to building infrastructure such as workspaces and roads in predominantly Arab towns. The committee on Arab affairs said the Israeli government has already invested $1.2 billion (NIS 4.5 billion) out of the $4.2 billion (NIS 15 billion) allocated to the economic development of Arabs with Israeli citizenship and other minority groups, as part of a 2015 cabinet resolution.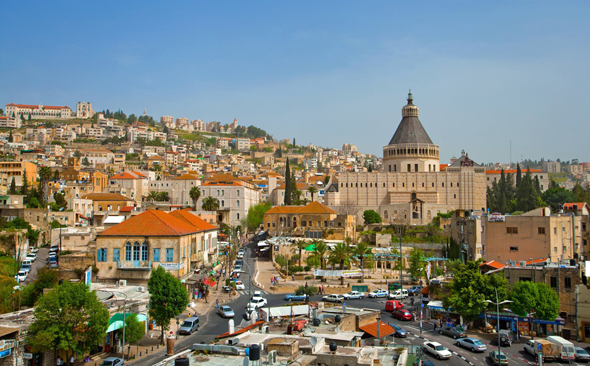 Nazareth. Photo: Wallpaperstop
Israel's Arab citizens have traditionally been under-represented in the local job market and especially in Israel's booming tech sector. Comprising around 20% of the Israeli population and 17.4% of the country's workforce, Arabs with Israeli citizenship account for only 1.4% when it comes to technology jobs, according to a study published in August 2017 by the Israeli Ministry of Finance.
While Israel's tech industry is facing a shortage of talent, Arab engineers still find it hard to get hired. One of the main reasons for the exclusion of Arab engineers from Israeli tech is that they lack the necessary network to land high-paying tech jobs, Nasreen Hadad Haj-Yahya, co-director of the Arab-Jewish relations program at The Israel Democracy Institute, an independent research center based in Jerusalem, said in a February interview with Calcalist.
Language and culture barriers also contribute to the exclusion of Arab workers, as well as the fact that much of Israel's Arab population lives outside of the country's metropolitan centers, where most local tech companies are located, Ms. Hadad Haj-Yahya said.
Tsofen, an Israeli non-profit organization dedicated to promoting the involvement of Arabs in Israel's technology sector, has collaborated with the government in developing the program. The organization said in a statement that the funds will lead to 3,000 new software development and engineering jobs and thousands of additional jobs in tech services.
"We see the increase in the numbers of Arab students in the tech fields and the increase in Arab tech workers. This is a quiet and positive revolution which includes the inclusion of Arab women in the local tech sector," the organization said.
Israeli Minister of Economy Eli Cohen said in a statement that advancing tech industry inclusion and employment within Israel's minorities is a matter of strategic importance for the Israeli economy at large.