Tel Aviv to Set Up City-Owned Shared Workspaces
The first locations will be at the Tel Aviv Port shopping and entertainment district and will be operated on a for-profit basis
The city of Tel Aviv is planning to open three shared workspaces at Tel Aviv Port, a shopping and entertainment district in the city's north, a person familiar with the matter told Calcalist on condition of anonymity.

For daily updates, subscribe to our newsletter by clicking here.

The first coworking space will open by the end of the year, the person said, adding that the project is planned to eventually take up more than 16,000 square feet of space (1,500 square meters). At this point, the city is exploring whether to operate the workspaces itself or open a tender for a private operator, the person said.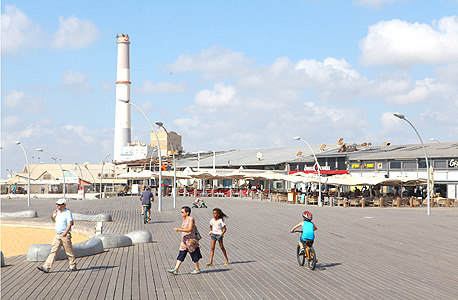 Tel Aviv Port. Photo: Orel Cohen

Calcalist contacted Tel Aviv Port's CEO, Dan Menashe, for comment and he confirmed in an email that permitting has been obtained for workspaces at the port.

The project is being led by Atarim, a municipally owned corporation in charge of developing Tel Aviv's coastline areas.

In recent years, the shared workspace market has been booming in Israel, with new locations constantly sprouting up, especially in and around Tel Aviv, the country's tech and business capital, which is currently home to about 70 shared workspaces.

The city is also exploring additional locations for shared workspaces at two other complexes operated by Atarim: The New Station Compound (Hatachana) and the Port of Jaffa, according to the person familiar with the matter. This move fits within the city's long-term policy of combining industry, entertainment, and leisure within a single predefined complex.

The city of Tel Aviv is running two coworking spaces at the moment. Mazeh 9 offers a free space for students and young freelancers. The Library, which targets startups, charges a symbolic fee of NIS 300 ($84) per capita a month. Both these spaces are run as nonprofits, while the new workspaces are planned as for-profit businesses.