Alibaba's Jack Ma Meets With Benjamin Netanyahu in Jerusalem
Mr. Ma arrived on his first visit to Israel Monday. On Tuesday he met with Jerusalem-based venture capital fund JVP
Alibaba's founder and CEO Jack Ma met with Israeli Prime Minister Benjamin Netanyahu in Jerusalem on Wednesday. In their meeting, Mr. Ma told Mr. Netanyahu that Israel had proven much more "peaceful" than he anticipated. Mr. Ma also said he is impressed with the scope of business opportunities in Israel.

For daily updates, subscribe to our newsletter by clicking here.

This is the third meeting for Mr. Ma and Mr. Netanyahu, who met previously in China in 2017 and in Davos, Switzerland in 2016.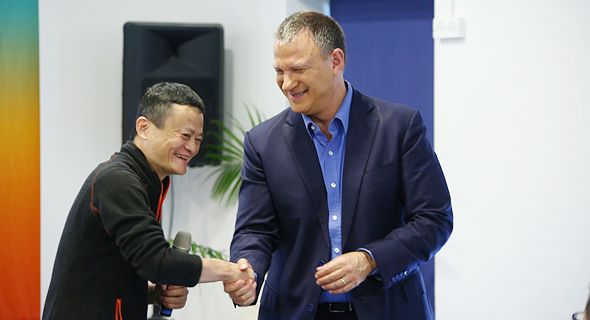 Alibaba CEO Jack Ma with JVP chairman Erel Margalit. Photo: PR
Mr. Ma arrived in Israel on Monday accompanied by a large delegation of senior executives from Alibaba and its subsidiaries. On Tuesday, he visited the offices of Jerusalem-based venture capital fund Jerusalem Venture Partners of which Alibaba became a limited partner in 2015. Mr. Ma told his hosts at JVP that China offers "real opportunity" to Israeli technology companies.
Mr. Ma met with some of the startups from JVP's portfolio, including e-commerce company SaleUp, cyber company ThetaRay, and Nanit, which developed a technology that analyzes the way babies sleep. Mr. Ma said Alibaba would be happy to collaborate with JVP and help integrate it into the Chinese ecosystem.
On Thursday, Mr. Ma will be awarded an honorary doctorate from Tel Aviv University.
In October 2017, Alibaba announced plans to set up offices in Tel Aviv as part of a $15 billion global research and development push. In late 2017 Alibaba completed its deal to buy the assets of Israel-based QR codes startup Visualead Ltd. Alibaba has also invested in Israeli-based startups including augmented reality software startup Infinity Augmented Reality Israel Ltd., e-commerce search engine Twiggle Ltd., augmented reality hardware company Lumus Ltd., and auto computer vision startup Nexar Ltd.